Danielle Generaux | Student Life Editor
January 21, 2022
"It's like having a genie in the palm of your hand!" says Disney about its new programs. On December 8, 2021, Disneyland adopted new programs called Disney Genie, Disney Genie+, and Lightning Lane. Since mid-October, Walt Disney World has been using these services, and now they have finally arrived here in California. 
You might be wondering what the difference is between Disney Genie+ and Disney Genie, and yes, there is a difference. Disney Genie is the free app where you can access Disney Genie+, which is a ride-reservation system allowing you to skip the standby line on select rides if you pay extra. Disney Genie+ is essentially the new version of FastPass, which was the prior system Disneyland used.
"I liked the original FastPass better," sophomore Gabby Nacelli said. "The new Genie+ is way too expensive, especially for parties with more people."
NOTE: The Disney Genie+ and Lightning Lanes are purely an add on. With a regular park ticket, guests can still ride attractions by waiting in the standby lanes.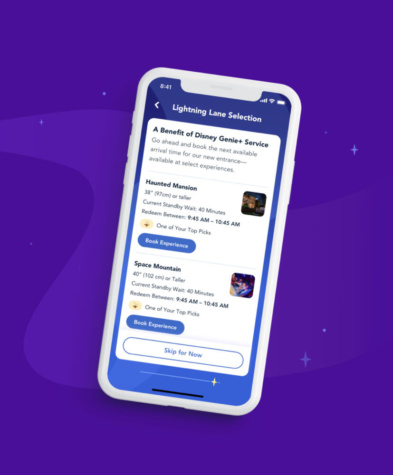 There are options for the Disney Genie+ Lightning Lane program. The first option is "Disney Genie+ Lightning Lane Entrances." This option is $20 per ticket per day (on top of the price of standard admission) and includes 19 select attractions listed below.
The second option is "Individual Lightning Lane Entrances." This option allows the visitor to pay for select rides individually. The prices for these rides vary from $7 to $20 per person. You can expect new rides like Rise of Resistance to be on the higher end. According to Disney, "You can purchase individual selections for up to 2 different attractions per day upon entering a theme park." Guests are intended to choose their favorite two rides, maybe those with the longest wait times, to spend their money on.
You can purchase either or both of these programs on the Disney Genie app.
Disneyland Park
Individual Purchase for Lightning Lane Entrance
Star Wars: Rise of the Resistance
Disney Genie+ Lightning Lane Entrance
Autopia

Big Thunder Mountain Railroad

Buzz Lightyear Astro Blasters

Haunted Mansion

Indiana JonesTM Adventure

"It's a Small World"

Matterhorn Bobsleds

Millennium Falcon: Smugglers Run

Roger Rabbit's Car Toon Spin

Space Mountain

Splash Mountain

Star Tours – The Adventures Continues
List of Rides adapted from disneyland.disney.go.com.
Disney California Adventure Park
Individual Purchase for Lightning Lane Entrance
Radiator Springs Racers

WEB SLINGERS: A Spider-Man Adventure
Disney Genie+ Lightning Lane Entrances
Goofy's Sky School

Grizzly River Run

Guardians of the Galaxy – Mission: BREAKOUT!

Incredicoaster

Monsters, Inc. Mike & Sulley to the Rescue!

Soarin' Around the World

Toy Story Midway Mania!
List of Rides adapted from disneyland.disney.go.com.
The Disney Genie also allows you to customize your trip to Disneyland based on your interests. It can be used to map out the day and it even recommends places to eat and specific rides unique to you. The recommendation for the customer's personal day can be found in the "My Day" tab of the app.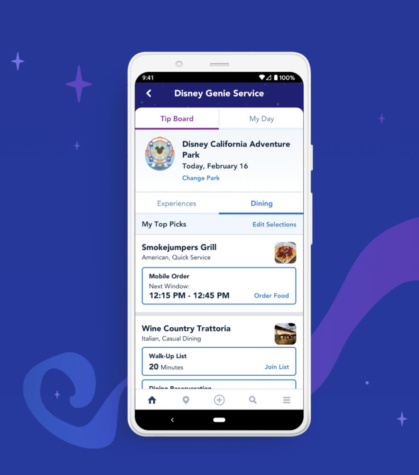 Guests can also use the app for mobile order, which allows users to buy food on their phone, select a time window, and pick their order up later at the location in the park. Mobile food orders save a lot of time, especially if the food line is super long.
"I honestly think the new Genie+ system will give Disney more profits since they lost a lot of money during the pandemic," senior Kristian Rorvik said, "so hopefully it'll disappear in a year or two."
More in detail information about the Disney Genie perks can be found at this link.