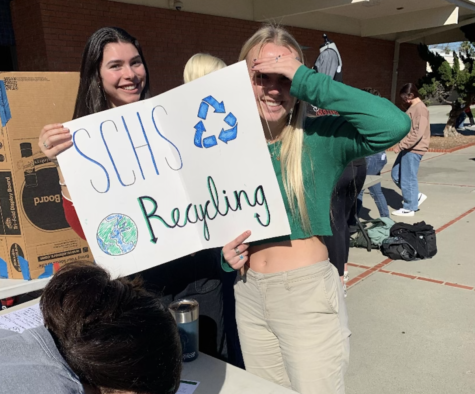 Aaron Velez | News Editor
January 21, 2022
San Clemente High was lacking one key feature this past semester: accessible and widespread recycling. While some individual teachers choose to independently recycle and provide recycling bins for their students, there has been no overarching program to distribute and carry out recycling processes since the spring of 2021.
Now, however, a group of students have stepped up to institute a club that picks up where the school left off with recycling on campus. Supervised by biology teacher Mrs. Finnerty, the club aims to provide resources for recycling across SCHS.
"Since Mr. Kerr left our school, our recycling program has been discontinued," club co-founder, Amanda Dirpes said. "As young environmentalists, we want to make people more aware of sustainability and eco-friendly habits, and to do so, we reestablished the program through our club SCHS Recycling. We want to place a recycling bin in every classroom and several around campus."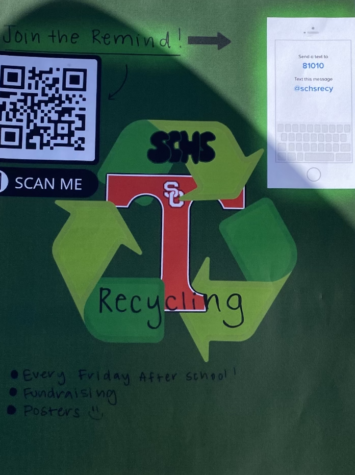 This goal will not be achieved automatically, however, as purchasing resources for an entire school is no small task. The club is planning on holding a bake sale to raise funds for bins and distribution. This and help through other funding can drastically improve the reach of the club.
However, the most impactful way that the club can grow and expand is through membership. The club had a strong showing yesterday at club rush, with over 37 new members signing up. The time to join is certainly not over yet, however: "We need a large amount of consistent members for a project this big to be successful," junior Corinne Farahmandi said. "If you missed us [at club rush] make sure to text '@schsrecy' to 81010 from your phone or scan the QR code!" (Alternatively, join SCHS Recycling Club here).
With growing concerns of climate change and unsustainability, we can all do our own part to make the world the most suitable, cleanest place possible. The initiative taken by the SCHS Recycling club makes the goal of sustainability more feasible for everyone on the campus.