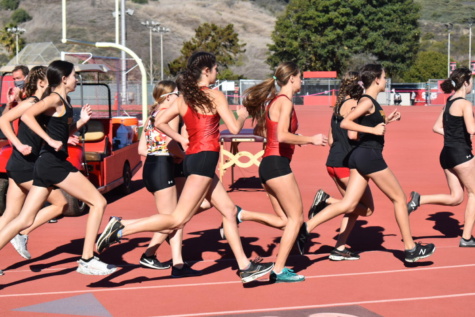 Coco Meyerhofer | Writer
February 25, 2022
Hold on, San Clemente! Track and field season officially begins in a couple of weeks, so it's time to get excited.
Triton's track and field program is one of the biggest athletics programs at San Clemente, with events ranging from distance track running to shot put (that sport with the metal ball pushed from the ear). Many Tritons are starting their second sport of the year after the end of their fall or winter sport, and they want to stay active during the remainder of the spring semester.
This track season, however, has already gotten jump-started with a pre-season meet for both the boys' and girls' distance running teams on February 5 at Tesoro High School to get ready for the transition into track season. "There were a lot of pre-season PR's (personal records) in this race, which is really exciting," San Clemente High School junior distance runner Madi Kerrigran said. "We were racing with the boys too, which isn't something we always do, so it was really fun. With all of these new PRs, I think the season is going to turn out to be really good for the distance team."
To break this down a little bit:
San Clemente's track and field team is extremely large, and there are many different programs: distance running (>800 meters), sprints (<400 meters), hurdles, relays, high jump, long jump, pole jump, and shot put. Each of these programs has different qualifications — winning might depend on speed, height, or distance. The amount of students in each program varies; with combined boys' and girls' distance running, there are around 80 Tritons running, but in events like pole vaulting, there might be only 15 Tritons competing.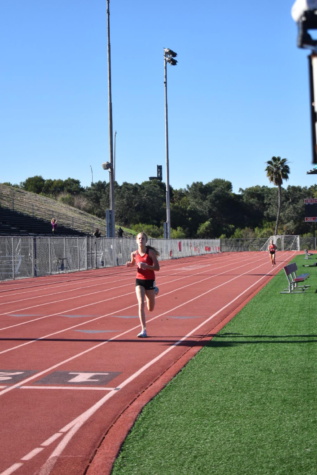 Track and field meets take upward of four hours to complete even though most of the events occur simultaneously. At San Clemente, the very first event is always the mile, a race to run four laps around the track, and the last one is almost always the three-mile, a brutal twelve laps around the track. 
As for right now, the entire team has been training for next week's bigger pre-season four-way meet between local schools on March 3 at San Clemente. They are also preparing for the first real meet of the semester — the traditional Triton Invitational — also occurring at the school on March 19.
"I've never done anything like this before," freshman sprints runner Pierce Kerrigan said, "but I really like track. I've been improving a lot recently, and I'm really excited for the Triton Invitational next month, but really terrified."
The track and field season is going to be huge this semester, as SCHS is finally celebrating having a full and safe season for the first time in two years. 
If you would like to attend any meets, check the full schedule on https://tritonrunning.com/.