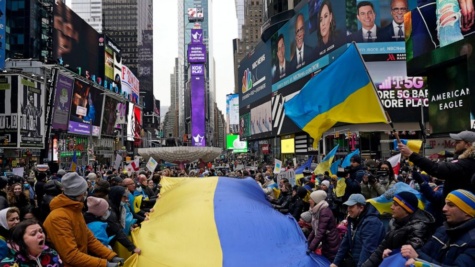 Eden Havel | News editor
March 10, 2022
Let's be honest: these past few months have been chaotic, and it's all too easy to focus on the bad in the world when it can be seen so clearly. But we can make the choice to celebrate the beauty, kindness, and strength of humanity in light of the struggles that we face.
"I think it's important to read things that give us hope and make us happy," said sophomore Gabby Nacelli. "Without hope or glimpses of happiness, life would be so dull. How could we look forward to anything in life if all we read and hear about is negative and disheartening?"
Junior Noah Kuhn explained, "I think that it is always possible to find happiness in life if you really search for it. I also think politics are the exact absence of happiness."
With that accurate definition, please enjoy the top ten happy things that happened across the world this past week.
An 11-year-old boy in Ukraine trekked 700 miles to safety with only a plastic bag, a passport, and a telephone number written on his hand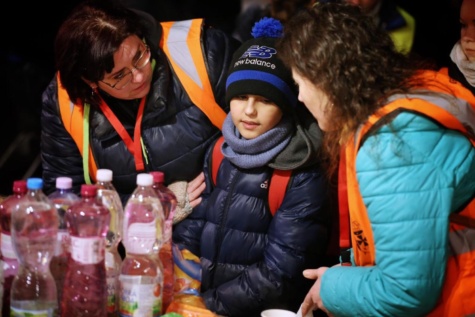 This boy's mother sent him on a journey to Slovakia by train to find his relatives. Despite only having a plastic bag, passport, and phone number, he was immediately welcomed over the border and provided food. Volunteers at the border stated that he amazed them with his defiant smile, fearlessness, and determination. The police managed to contact his relatives who later came for him and deemed him a hero. Despite the rarity of this happy ending, it has given continued hope for human kindness and the positive results of determination. 
Polish moms left strollers at a train station for Ukrainian moms to use when they arrive in Poland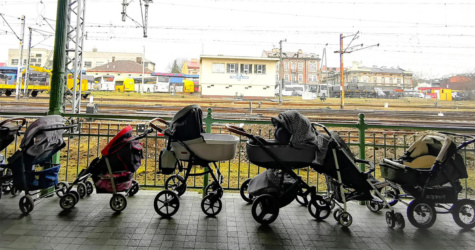 These strollers were left at a train station for Ukrainian moms escaping the war with their babies. With more than 1.5 million refugees successfully escaping their country across the Polish border, Polish moms are stepping up to help. This now-viral picture enraptures the independence these mothers are facing as they flee the countries without their husbands or adult sons. This is not the only way other countries are stepping up to help Ukrainians, as thousands of citizens across the borders are opening their homes, stores, and restaurants to the suffering people. 
Russian soldier breaks down in tears when locals give him tea and allow him to call his mother after he surrenders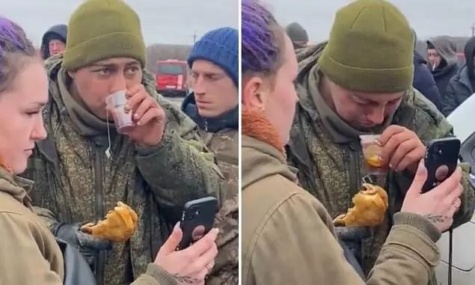 Ukrainians comforted this young surrendered Russian soldier with tea, allowing him to use a phone to call his mother and tell her he is okay. The man can be heard saying that the soldiers are not sure "why they are in Ukraine." "These young men, it's not their fault!" he says in Ukrainian. He struggles to compose himself on the FaceTime call, drinking, eating, and shivering. But he ends the sweet moment by blowing her a kiss and is continued to be comforted by Ukrainians thereafter. This clip emerged after reports that Russian soldiers are sabotaging their own vehicles and surrendering. The Ukrainian government has even helped Russian soldiers to surrender by offering 5 million rubles ($48,000 USD at the time of the statement) and "full amnesty" for Russians who choose to voluntarily surrender to prison. 
Bridges in the sky carry sloths to safety in Costa Rica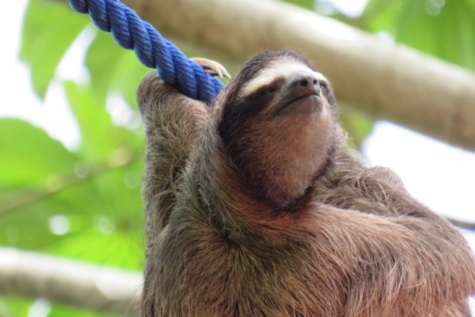 The Sloth Conservation Foundation works to preserve the future of this lovable mammal in Costa Rica. Faced with habitat fragmentation and decreased tree cover, sloths often have to move over developed land to reach new trees. Since sloths have such a slow reaction time, they are frequently killed on the ground by cars and aggressive dogs. Understanding this problem and wanting to help the sloths that live outside of their home in Costa Rica, a couple contacted the Sloth Conservation Foundation for help with building rope bridges across the sky. These bridges allow the sloths to cross fragmented pieces of forest easily and safely.
An 8-year-old's handwritten book now has a years-long wait list after he snuck it onto a bookshelf in a library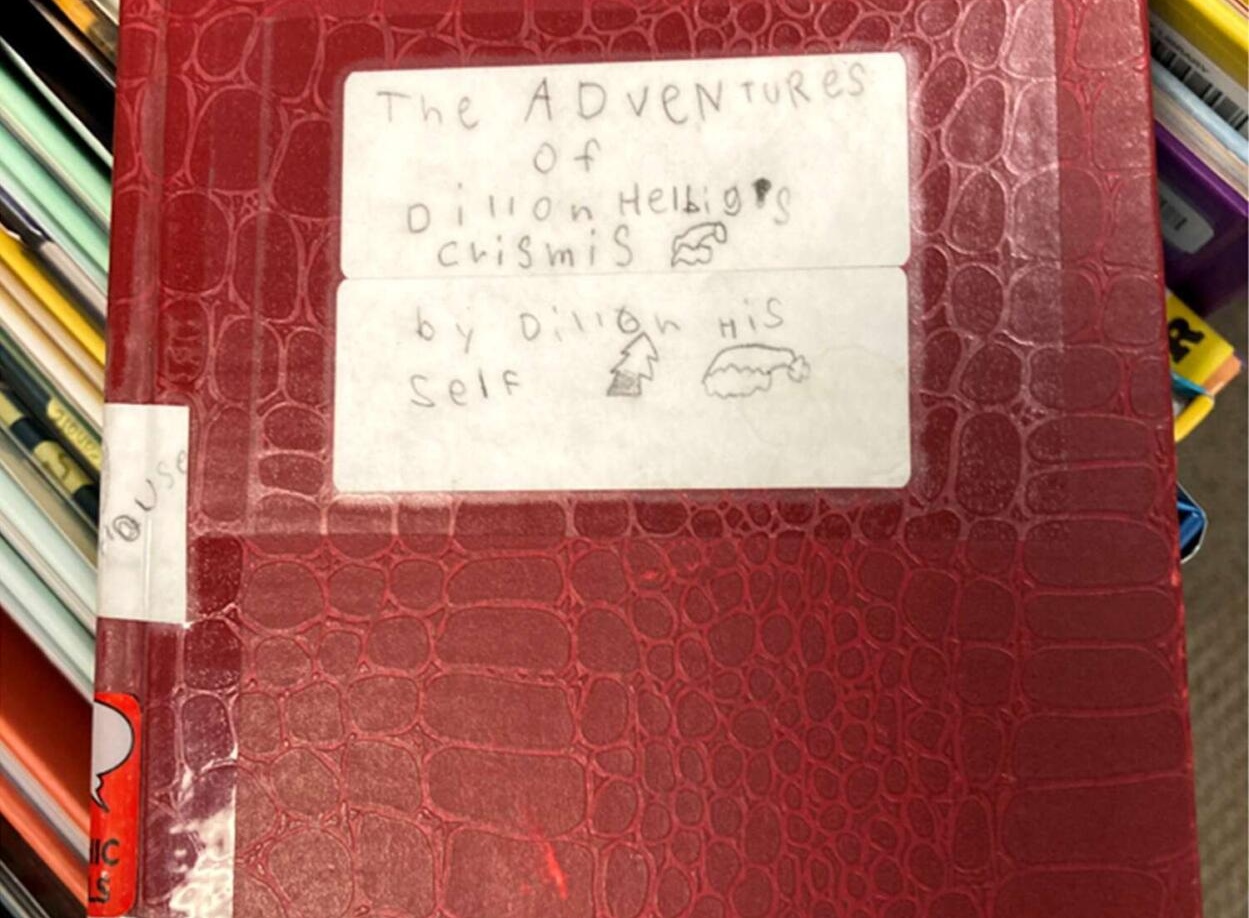 Dillon Helbig is a second grader from Idaho who finished writing his own book with colored pencils, crayons, and an imaginative story of a Christmas adventure. His book was completed in December, and the sneaky 8-year-old came up with a plan to plant his book on a library shelf. It has been discovered, and a years-long wait list has been developing as its brilliance continues to be realized. 
An 11-year-old girl was being bullied, so the president of Macedonia decided to walk her to school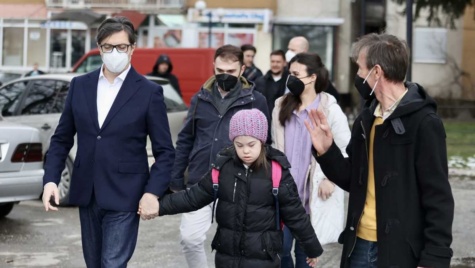 Embla Ademi was being bullied at a school in North Macedonia for having Down Syndrome. President Stevo Pendarvoski heard about the young girl and her family's daily struggles. "They should not only enjoy the rights they deserve," said the president, "but should also feel welcome and equal in the school desks and schoolyards. It is our obligation as a state, as individuals, and the key element in this common mission is empathy."
The Compassionate Caravan: a bus that serves in Kentucky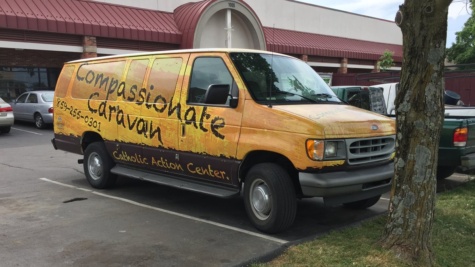 The Compassionate Caravan is an effort to provide for the homeless across Lexington, Kentucky. The van provides cold-weather supplies, shelter, and rides to the homeless when the temperature reaches life-threatening lows. On the streets from 6:30-9:30 p.m, this bus provides a home for those who need it, gives a voice to those whose voices may be powerless, and cares for those who rarely experience care.
Russian aircraft signaled with the Ukraine flag at Tel Aviv airport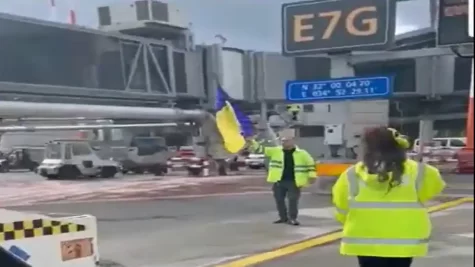 Across the world, companies, sports teams, schools, and regular people are raising support for Ukrainians, standing with the flag, and protesting. One country participating in these supportive actions might be surprising. In Russia, even soldiers invading on behalf of the Kremlin have begun to protest. The blue-and-yellow flag in honor of the suffering country has been flown, even signaling for Russian aircraft at the airport, as displayed by the now-viral picture above. 
Mila Kunis, Ashton Kutcher, Ryan Reynolds, Blake Lively, and many more celebs to match millions of dollars in donations for Ukrainian refugees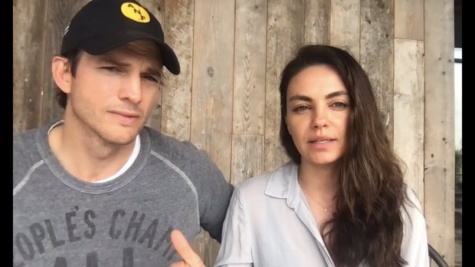 Actress Mila Kunis was born in Ukraine after the fall of the Soviet Union. In honor of her home country, Kunis and husband Ashton Kutcher have developed a fundraiser with a jaw-dropping goal of $30 million. "We will make this happen," says the couple who have already gathered more than 16 million since the announcement of the fundraiser. They are not the only actors raising money. Ryan Reynolds and Blake Lively have agreed to match $1 million donated for Ukrainian refugees. Even Leonardo DiCaprio has donated $10 million in honor of his late Ukrainian grandmother.
Ukrainian soldiers bring in freezing puppy to their post to act as security and name him Rambo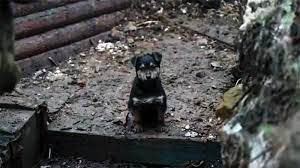 Possibly the cutest story of the day, Ukrainian soldiers have adopted an adorable freezing puppy who is now their reliable watchdog. The soldiers explained, "We felt sorry for him. It was freezing outside. We took him to our post and he stayed with us." The dog can be seen wagging his tail and photobombing in the background of the one-minute video. They named their new puppy Rambo after the beloved hero character portrayed by Sylvester Stalone. Rambo is an expert at his job.
As John Krasinski—actor and creator of Some Good News—puts it, "No matter how bad things get, there is always good in the world." Hopefully these acts of broadcasted kindness can continue to inspire others to do the same. Let's all remember to smile, support our fellow humans, and act with kindness throughout our day.