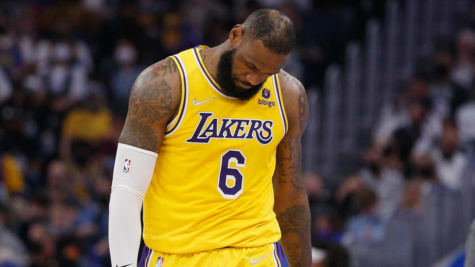 Ben Cooper | Sports Editor
March 11, 2021
Disappointing, lackadaisical, and underwhelming are three words to describe this Los Angeles Lakers' season. Coming into the season with championship aspirations, they are now fighting to just get into the playoffs.
They sit in ninth place in the Western Conference at 28-37. It will take a miracle for Los Angeles to turn it around in the final stretch of the season. 
"As the season is coming to a close, the Lakers' odds of winning another title are declining," San Clemente High School senior Trevor Pham said. "There is little hope for them to turn it around. With injuries and a lack of defensive drive, this team would be lucky to make the playoffs."
The team's defensive effort has been lackluster, as they have given up easy buckets to teams all season long. Anthony Davis' absence has spelled trouble for the Lakers, as he is the anchor of a defense that finished top five in the two seasons prior but has fallen to the depths of the pack. 
Last Saturday, LeBron James carried Los Angeles to a victory over the Golden State Warriors. He dropped a season-high and career-high with the Lakers with 56 points. This gave Laker faithful optimism, but they followed it up with losses to the San Antonio Spurs and Houston Rockets. 
Losing to Houston was embarrassing and a new rock bottom for head coach Frank Vogel's group, as the Rockets have the second-worst record in the league. The media has used this season to question LeBron's legacy as a basketball player. 
"LeBron is currently the person holding the entire team together," senior Justus Timmerman said. "There's nothing more he can really do except keep up his performance. With AD being in and out this season and Westbrook struggling, LeBron has been the one constant. All he can hope for is his teammates to step up."
LeBron is averaging 29.3 points per game this season, which is second in the league. This is impressive for a 37-year-old, but even his improved scoring hasn't helped the Lakers stay afloat. The offseason trade to acquire Russell Westbrook was a poor decision, as his fit with the team made no sense. 
"Westbrook has found himself in a very unfortunate position," senior Trevor Pham said. "With under 20 games left, I find it hard to believe that he will improve, as he doesn't have a consistent jumpshot."
LeBron thrives with shooters around him, and Westbrook's inability to knock down the three-ball limits the success they can have.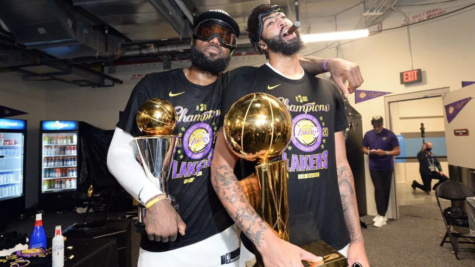 The Lakers' season is practically over unless they can make a quick turnaround. "The odds are definitely stacked against them," Timmerman said. "There is still the possibility for them to make it to the playoffs, but they would have to make a complete turnaround, winning a majority of their games. The current team dynamic would definitely be improved by AD's return, and hopefully, we'll see a bounce back. We've seen the dynamic duo pull it off, but there's still a likely chance that it's too late and the rest of the team can't back them up."
AD's potential return serves as the last glimmer of hope for the Lakers' disaster of a season.