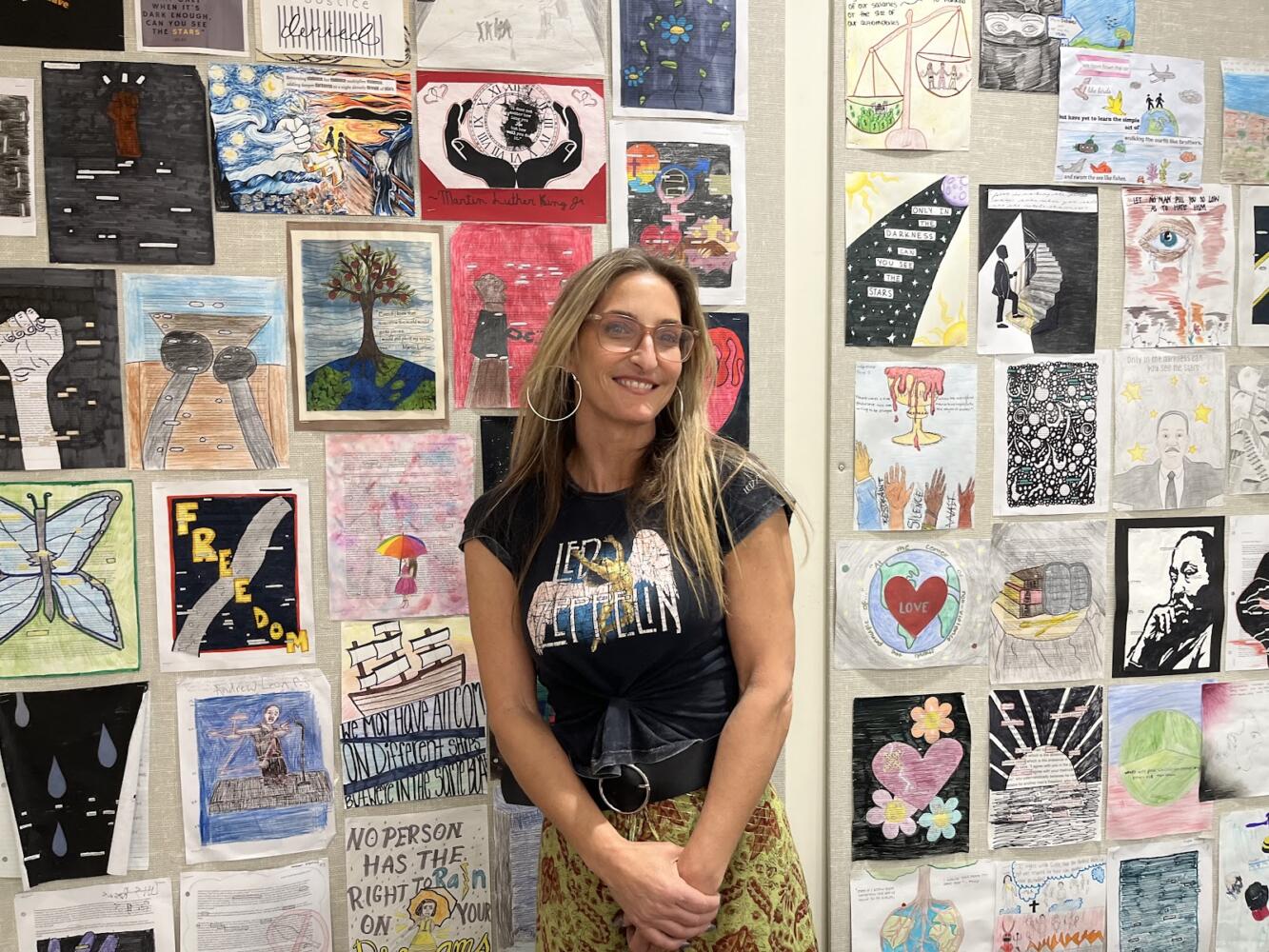 Helene MacBeth | Writer
March 17, 2022
Whether it's because of her vibrant personality, sympathetic teaching style, or ability to expand her students' knowledge, everybody seems to love Ms. Schimdt, an English teacher at San Clemente High School. She teaches a variety of courses and levels, ranging from English I to AP Language and Composition.
The passion for English and teaching that Ms. Schmidt presents to her students stems from an encounter that she had with one of her previous English teachers. "I happened to be at UCI taking a summer class and I ran into her," Schmidt said. "She was doing a very popular teaching program called UCI writing program and we started talking. I realized how much she inspired me and I realized how much I loved what being an English teacher offered. Teaching English is sort of theatrical and it is very dynamic, which spoke to me. I liked the idea of acting in front of the class and expressing myself to the kids. Running into her that day was sort of the clincher for me."
Thankfully for her students, her decision was made to become an English teacher. Junior Cooper Manovolitz explained that he has learned a lot more about writing since being in her AP Language and Composition class. He described the timed-writes that Ms. Schmidt often assigns: "even though the timed-writes are difficult, they have helped me improve my writing," he said. "My writing scores have gone up significantly throughout the year, and I think that this is largely due to Ms. Schmidt's lessons and the amount of practice in writing that I have gotten throughout the year." Because of her dedication to her AP Language and Composition classes, she has helped students feel more comfortable and prepared for the upcoming AP test.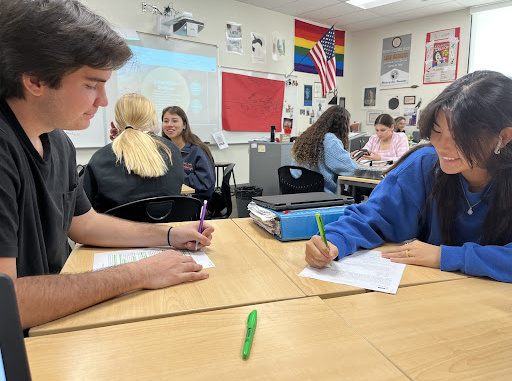 Besides essays, another large part of Ms. Schmidt's classes are table group discussions. "I really enjoy the table group discussions because the topics that we discuss are engaging and useful," Junior Rino Nishida said. "We often talk about different political viewpoints and ideas which I find very interesting and beneficial." For example, a project that Ms. Schmidt assigned her AP Language and Composition class was a creative slideshow that prompted students to explore toxic masculinity in the media. "I loved this project because it was applicable to our daily lives," Nishida said. "Seeing the toxic masculinity that we discussed in class brought to life in our favorite movies or songs was eye-opening and allowed me to expand my learning."
Ms. Schmidt's interests are not exclusive to teaching. One of her passions that she likes to share with students is fungi. In fact, she even lets her students watch fungi videos and leads them in fungi meditation when she senses they need a break or are feeling overwhelmed. "I like the fungi meditation that she leads because it is relaxing and helpful after a stressful week," junior Ruby Hawbecker shared. "I appreciate her sympathy toward our busy schedules and her ability to recognize that we need a break sometimes."
Ms. Schmidt, one of the many great teachers at SCHS, has not only made an impact on students' learning, but has also helped students grow and develop outside of the classroom. "To me, being a teacher is a sacred role and seeing [my students] cross over into adulthood is very special and there is just nothing like it," Schmidt said.