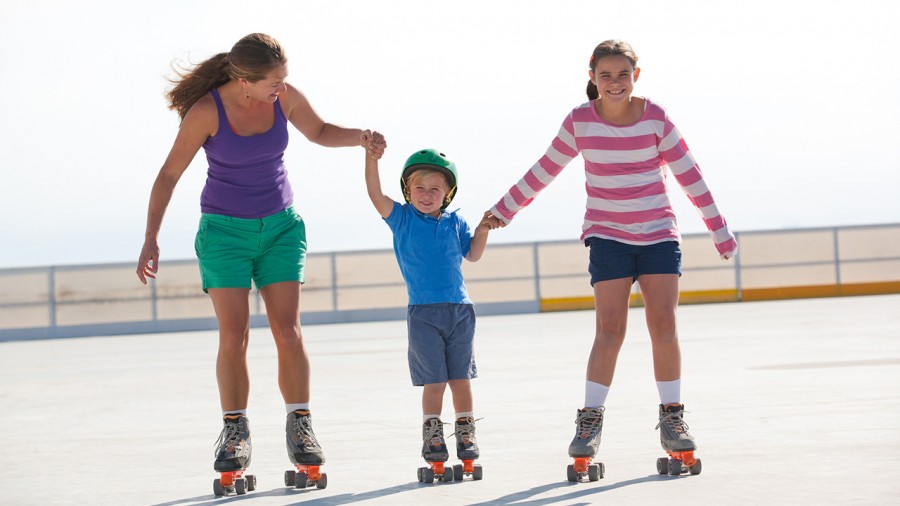 By Saffron Sener | Arts & Entertainment Editor
June 12, 2015
Rollerskating, that is.
As the warmer season comes on, the days become progressively better for outdoor skating. Despite this, I rarely see rollerskaters strutting their stuff around San Clemente. Many of us haven't had the time to explore the area in search of optimal skating options. Others might question whether or not the places are too far for realistic skate sessions.
I play roller derby, and my closest practice is Santa Ana. Going three days a week is a huge commitment. Finding places to skate around here is almost equally difficult. That's why I see a necessity to create a list outlining my findings as an avid skater. With the help of Cassie Powell, a skating expert and queen, I organized the below record of our favorite skating spots.
The list is in no particular order.
Doheny State Beach
Beautiful and nearby, Doheny is a perfect place to skate. With a park and set of trails that are paved and easy to maneuver, the state beach is ideal for sunny day skate sessions. The concrete pavement at this site is what sets this location apart from the other trails and state beaches of San Clemente, for a skater can actually utilize this area. Although there is a small set of hills, Doheny is awesome for skaters of all levels!
Greenbelt
The Greenbelt is an amazing place for skaters to practice. With its smooth pavement, and slight, rolling hills, it provides near to no challenge for skaters of any level. Additionally, the pathway is really long, so you could skate back and forth for hours without feeling bored. The stretch is also in San Clemente and really easy to access. All considered, the Greenbelt is great for skaters of all abilities.
Basketball Courts
Wherever you can find them, basketball courts are awesome for roller-skating, especially if you solely want to practice skating or skills. They provide smooth, open surfaces that are comfortable for both indoor and outdoor skates. In addition to the skills practice, basketball courts are fun just in the fact that they are calm, typically empty places for skating. They are also found almost anywhere!
Steed Park
With a thick paved walkway surrounding its baseball fields, Steed Park establishes itself as an ideal skating spot. Rather than simply skating in a circle or line, the paved pathway here is interesting and fun to skate on. The only drawback is that it is somewhat hilly, but not particularly intense. The park is still adaptable for people comfortable on their skates.
Fountain Valley Skating Center
The closest roller rink to San Clemente, this location still requires a bit of a trek. It's worth it, though. Being surrounded by other skaters in a controlled area is very comforting to skaters of all levels. This particular rink is typically more empty, so it is a perfect place to come and practice your moves. Although the flooring is a little uneven, this rink has air-conditioning, which is a blessing.
Holiday Skate
Just like Fountain Valley, this roller rink is unfortunately also rather far away. It still deserves a place on this list, though. With newly laminated wood floors, this rink is my preference for the skating aspect. It is slightly larger, the music playing is normally better, and if you're lucky, you can watch one of the workers show off their awesome moves. Unfortunately, it is almost always crowded. I recommend going on off-days, such as Wednesday or Monday. If you catch this rink at a good time, it's an undeniably awesome place to skate.
I also go to the Vans and Etnies Skate Parks, but they are not necessarily for relaxed skating. I recommend them to advanced skaters that can handle ramps and dodge flying skateboards. All together, the places above are ideal for skaters of any level, and really fun for both huge groups or just a couple of people. Hope to see you skating!