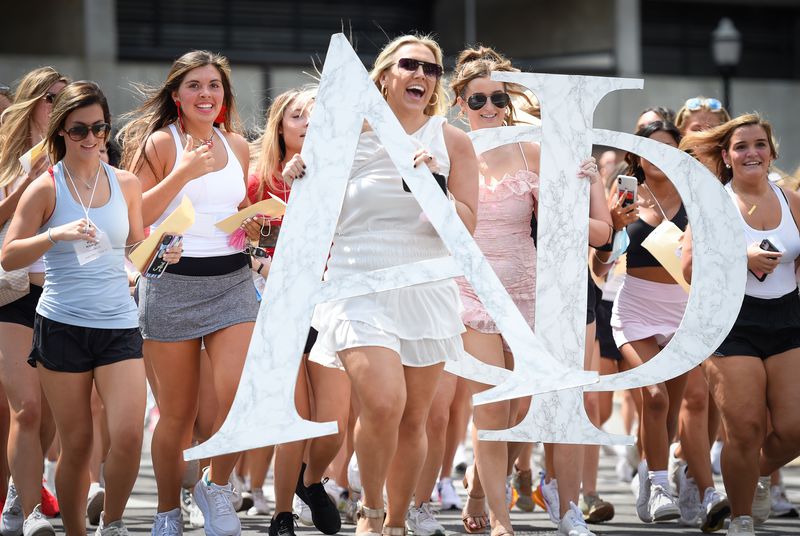 Claire Hedger | Writer   &   Avery Kearl | Writer
September 2, 2022
Rush week at Alabama University, commonly known as Bama Rush, has become a viral Tik Tok sensation. Whether that be the 2,200 potential new members (PNM) showing off their impressive dance moves or just giving an outfit of the day. Such videos offer an insight into the lives of incoming and returning students interested in the life of a sorority girl. The competition can be extreme between applicants, making for an entertaining internet sensation, commonly referred to as #BamaRush.
Rush week is the formal term used for the week-long application process that each PNM must participate in to even be considered for a sorority. The week is jam-packed with different themed parties so that sororities can get a feel for which applicants they will consider. At the same time, the PNMs try to make a lasting impression and get an invitation back. In other words, rush week is a week-long first impression.
Fans at home have fun picking their favorite girls through Tik Tok and making predictions as to who they think will be accepted into what sorority. 
"I remember waking up every morning during rush week to look at the "OOTD's" [Outfit of the Day]," said San Clemente High School Senior, Sofia Sipelis. "They always had the cutest outfits on." Some of the extravagant themes include "Breakfast at Tiffany's", cowgirl, and bridesmaids. 
However, like any viral trend, Bama Rush had no trouble finding itself in a pile of controversy. As stories of acceptance rates dropping based on race, looks, and social status came to surface, many viewers began to rethink their excitement about rush. However, this did not stop the PNM influencers from posting "OOTD's" that match the day's theme. In fact, the controversy only brought in more views.
"I started watching Bama Rush Tik Toks as a joke, but then before I knew it I was hooked," junior Chloe Gerhard said.
Rush week finally comes to an end on bid day, where all PNMs open their assigned envelope to reveal what sorority they have been recruited to. The stadium is filled with tears and laughter, as the girls learn who their new "sisters" are.