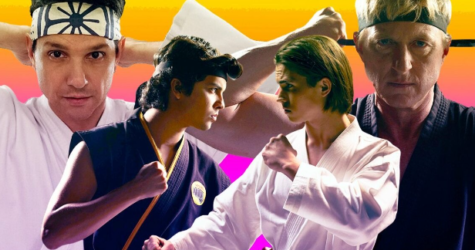 Jenna Forss & Chloe Gerhard | Writers
September 2, 2022
Our generation is the first to be constantly receiving new information, news, and threats of impending doom because of the advancement of the internet. The last few years have been especially stressful for teens. In the midst of all this darkness, Cobra Kai has risen to become an unlikely cult classic. It is filled with laughter-inducing one-liners and over-exaggerated acting within the character's dramatic plot lines. Cobra Kai looks camp straight in the eye without backing down and we high schoolers are here for it. In our fast-paced world polluted with an overload of tragic information, this surface-level show can be the healthy escape people need. 
Cobra Kai is a modern-day sequel to the Karate Kid franchise. It centers around two rival karate dojos and their quest for supremacy in the All Valley Championship.  Even though this show may sound intense, it is unmercifully ridiculous and includes some phenomenal antics. One scene includes the main character, Daniel Larusso, destroying his son's iPad with a karate chop. Along with Daniel, there are also many eccentric characters that are included in this series. A perfect example is Hawk.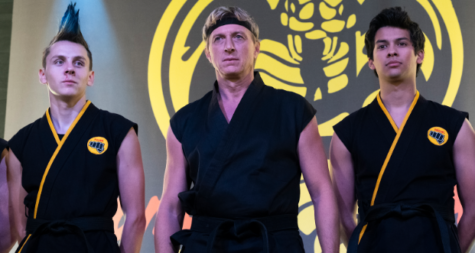 Hawk is a high school student that has a back tattoo of his namesake bird and of course, styles his hair in a mohawk. Yet another unforgettable character is played by the teen star, Peyton List. Her character, Tory, sports a very apparent wig throughout the show and it is still a mystery how the wig stays on when she gets thrown into a pool during a prom fight scene. Cobra Kai mainly focuses on the story of Johnny Lawrence. He is stuck in the 80s, drives a cobra-themed 2008 Dodge Challenger, and scarfs down Manwiches and ham by himself.
With the release of season five just around the corner, the show is at the forefront of many people's minds. "I've never been more excited for anything in my entire life!"  junior Claire Campbell exclaimed when asked how she feels about the new season's arrival. 
Cobra Kai's take on the 2019 Met Gala's theme of "camp" is enough to have junior Mika Kuhne admit that this dramedy helps her  "disconnect from life."
While shows targeted at teens like Euphoria and Thirteen Reasons Why may parallel the complicated and sometimes traumatic reality of today's teens, Cobra Kai offers an unapologetic escape. So whenever you're feeling a little too bogged down by the news of the world, simply kick back and be immersed in a world full of love triangles and karate fights. No guarantee that your friends will not make fun of you, but you will be reaping the benefits of escapism at its finest. Make sure to catch the new season of Cobra Kai this September 9th, streaming on Netflix.