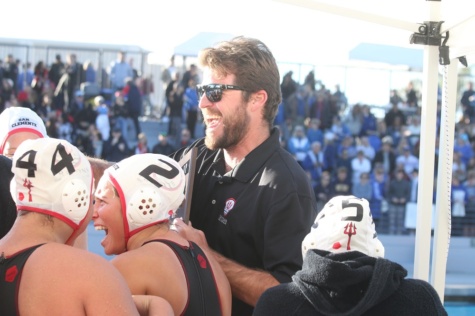 Dylan Backer | Writer   &   Otto Schniepp | Writer
September 14, 2022
In the summer before the year 2022, the legendary water polo coach Logan Powell steps back into the light and returns back to the home of the Tritons. The team is excited to have him back but first, a little bit about Coach Powell.
Powell went to San Clemente High School back in 2001 and played for the water polo team. In three of the four years of his high school career, he started on varsity and led the charge to two CIF titles. During all of this time, he was also a 2-time All-American and was voted the MVP of the South Coast league. His high school career was terrific but his college career was no laughing matter.
He attended UCLA to play water polo and would go on to be a starter his junior and senior year with Powell's senior year also having him being the team captain. Their team as a whole was runner-up as the All-American team and received all Men's Pacific Sports Federation (MPSF) honorable mentions. In his senior year at UCLA, he set a school record by scoring 34 goals. In his entire time playing for UCLA he scored a total of 84 goals.
Directly after he made his mark in UCLA history he came back to his hometown and decided to teach the future generation the ins and outs of water polo. He started as just the boy's junior varsity coach and made his way through the coaching ranks to finally become the head coach and also the director for the local San Clemente Water Polo Club. He was hesitant at first to take the head coach position, but he was very glad that he made that decision.
In an interview with Ottawa, Spirit Powell mentions why he became a coach, "I became an assistant for my high school team out of convenience. But I found I grew to love it. I wanted to see them succeed."
Powell wanted to give back and contribute to his community. He knew how important it is to have a coach push you and discover your full potential and he became that coach for a lot of people.
This school year he returned and will go on to coach the future of San Clemente water polo. Their next game will be at home on Tuesday, September 20 against Laguna Beach at 5 pm. Come out and support the boys' Triton water polo team!