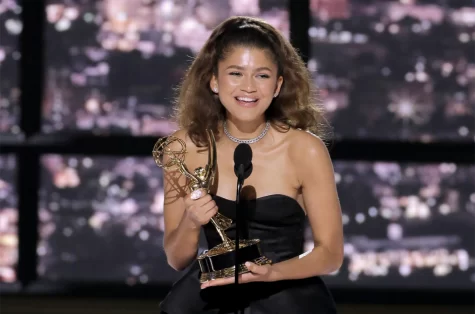 Hannah Eberle | A & E Editor
September 16, 2022
At the 2022 Emmy awards, Zendaya won lead actress in a drama series for her impressive performance in Euphoria. She previously earned her first Emmy two years ago, making history now as the first black woman to receive this award twice. In addition, the 26-year-old star continues to be the youngest female to win in this category. 
In the drama series Euphoria, Zendaya plays the character of Rue, a struggling teen dealing with addiction. Zendaya leaves us with a haunting performance addressing subjects such as suicide, addiction, and teenage drama. In her acceptance speech, she states "My greatest wish for Euphoria is that it could help heal people…I want to thank everyone who has shared their stories with me." 
Zendaya's glowing appearance at the Emmys shows the true versatility that comes with her acting abilities. Compared to her character Rue, she is almost unrecognizable in her stunning black gown and beautiful jewelry. Moreover, her acceptance speech was articulate, heartfelt, and impressive. In contrast, she strips herself down in her role as Rue and delivers a raw performance that makes it hard to believe she is the same person we see on stage at the Emmys.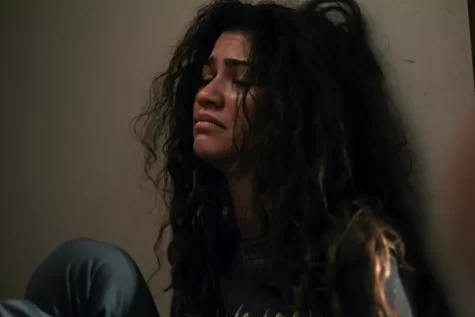 Members of the Triton student body also believe Zendaya is worthy of an Emmy for her work. "I thought her performance was seamless, the emotions she brought to the show really shows her character's development throughout the series," San Clemente High School senior Micah Hamilton said. Micah, along with other Tritons, is eager to see what Zendaya will bring to the upcoming seasons. 
Zendaya's successful career is a source of nostalgia for Tritons. "I remember seeing Zendaya on Disney Channel, the most memorable shows being Shake it Up and K.C. Undercover," SCHS senior Kayla Burford recalled. While these early roles may be unforgettable, she has come a long way since her Disney performances.
Beyond being an accomplished actor, she is also a talented singer and model. It is undeniable that Zendaya has been dominating the entertainment industry since her teenage years, she continues to perfect her craft as an actor and will undoubtedly return to the stage soon.