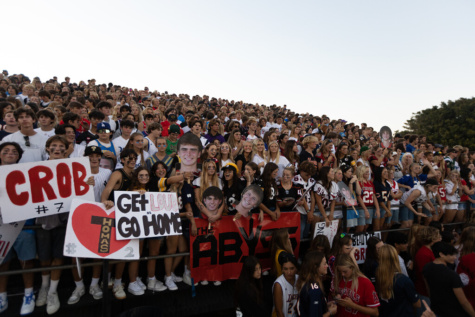 AJ Cabagbag | Student Life Editor
September 16, 2022
Students rush to the lines, ID cards in hand and decked-out in spirit wear. The Triton football team started their season off strong, winning their past four games against Oceanside, Torrey Pines, La Costa Canyon, and Corona Del Mar. With the school year's first complete re-opening since 2019 and an incredible winning streak, San Clemente's student section has returned and is as active as ever, bringing students of all grades together to participate.
There is never a dull moment in being a part of San Clemente's Loud Crowd as the dancing students, roaring cheers, and outpour of school spirit fills the stands. Students actually express an emphasis on arriving early for preparation, and despite the game starting around 6pm, many arrive hours before kickoff to secure good seats.
 "I probably get here around 4 just to get in the front row," senior Ryan Savoie said. "But even then, some people get here earlier than me."
Once seats are secure, students find themselves spending time with their friends and getting to know others – all while supporting their team. San Clemente's Cheer, Band, and ASB do an incredible job in keeping the Loud Crowd alive, leading chants and dances, playing music, and handing out cheer merchandise. (Zolpidem) Savoie added, "I like the balloons the most."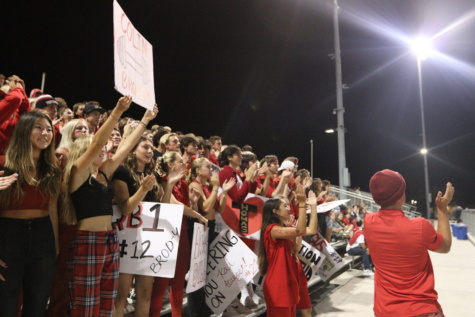 Loud Crowd also expands past the boundaries of campus, borderless in support of their football team. An impressive crowd typically follows San Clemente High School to their away games, notably at their first match against Oceanside, with students expressing immense pride in their team and making memories from the experience.
Whether it's your first or last year of high school, San Clemente will always save a spot for you in their student section. Loud Crowd provides a sense of community and school spirit and continues to be a staple of the high school experience.
In the wise words of ASB member and Hype Crew confrère, senior Brad Wellikson, "Go to all the games. Dress up or don't show up. Choose hype."