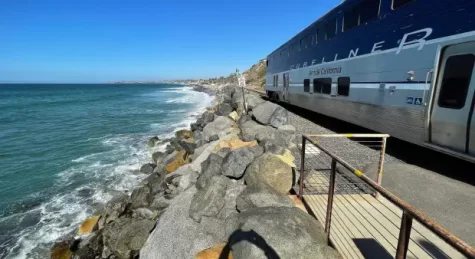 Ava Miller | Opinion Editor
September 22nd, 2022
Coastal erosion, a side effect of global warming, is threatening San Clemente coastlines, and the effects have become more severe in recent years. The railroad tracks, homes along the coast, and recreational structures on the beaches are facing serious danger. 
It is important to realize how much the San Clemente coastlines have already changed. Mr. Wilson, a biology teacher, recounts his memories of our coastlines during his years of being a lifeguard in the mid-1960s. Wilson recounted that "at North Beach, you used to be able to drive the lifeguard jeep on the beach around the corner". North Beach currently is most threatened by encroaching sea levels and erosion. Today, the lifeguard jeep is barely derivable on the sand at low tide, and high tide is out of the question.  The effects of erosion at North Beach are more evident, but all adjacent beaches on the coastline will eventually deal with the same problem.
Sand, the primary factor that makes up a beach and seems to be always abundant, is becoming scarce. As ocean tides and waves become stronger, sand is being pulled out to sea faster than the ocean replenishes it. "Sand is being brought in to create barriers on our beaches so the threat of the water flooding the beach trail and homes is reduced," Wilson says. This is part of San Clemente's efforts to replenish the lost sand. It costs hundreds of thousands of dollars and will need to be an ongoing process to keep up with the stronger winter currents.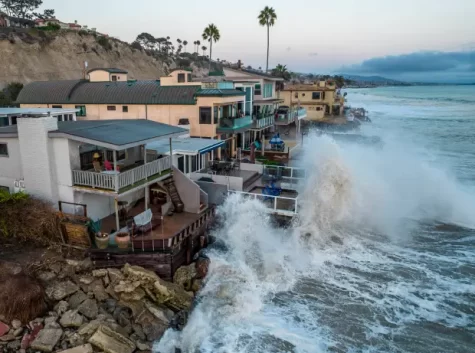 The erosion of our coastlines is becoming quite obvious to residents as well. Olivia Christensen, a junior at San Clemente High School, is a dedicated sunset watcher from our coastal bluffs and has gathered her own concerns. "You can see the bluffs are getting weathered away because houses are literally on the edge," Christensen said. What Christensen noticed is a fear that plagues the homeowners inhabiting those cliffs.  Wilson also suggests that "homes on beach road are in serious trouble". He predicts that "within 20 years, those homeowners might want to look for a different location". The sea level approaches the front doors of the million-dollar homes on our coastline, and serious weathering and structural problems have already taken place. 
The effects have already caused serious and costly impacts. The railroad tracks running adjacent to our shorelines have shifted with the erosion. The shift in the tracks caused closures of train routes stretching from Oceanside all the way up to Irvine, affecting both Amtrak and Metrolink. To fix the problems, boulder rocks will be placed on the coastal side of the tracks to provide support and stabilization, another costly endeavor. The delay in the railroads affects commuters and workers and is an early sign of how coastal erosion will disrupt everyday life more frequently as global warming becomes more severe.
The future of San Clemente's beaches is becoming more predictable, and it is not looking promising.