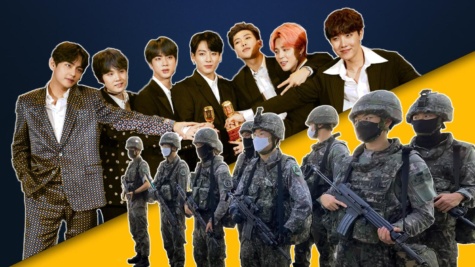 AJ Cabagbag | Student Life Editor
January 13, 2023
Just as Korean pop music has begun to create an explosive impact in the music industry, the members of the beloved boy band BTS are entering a season of serving outside of performances. South Korean law mandates between 18 to 24 months of military service for all men between ages 18 to 30, and as of December 2022, the oldest band member Kim Seok-Jin—or Jin—was seen starting his service at an army training center accompanied by tight security in Yeoncheon.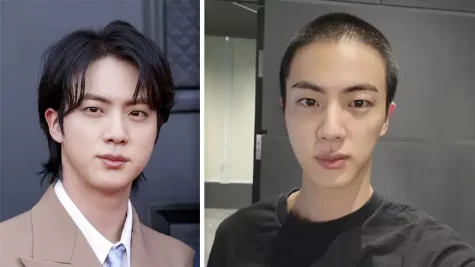 BTS, short for "Bangtan Sonyeondon" (Bangtan Boys), is a 7-member K-pop boy band that started their career in 2013. Originally formed as a hip-hop group, BTS over the years has grown its platform to explore more music genres like dance-pop and alternative R&B.
K-pop's prominence at the beginning of its existence had only succeeded in dominating the Eastern world. However, around 2016, when BTS released some head-turning hits, they started gaining traction in America as well. They were trailblazers for the K-pop industry, crossing over to the global music market with their record-breaking hits and incredible performances. With their scope of influence and the mandate of military service for their country, it was understandable for their fanbase "ARMY" to be disheartened by the news of them taking a break to fulfill those services.
"I don't even listen to BTS but I know so many people who do." says junior Sofia Aliman. "It's crazy to hear how quick it was for them to take a break to serve."
As previously stated, all able-bodied male citizens of South Korea are expected to complete 18-24 months of military service depending on the branch one joins. As Jin recently turned 30 on December 4th, he was the first of the ensemble to begin his service.
"I am a big Kpop fan, so seeing Jin shave his head for the military made me really sad," SCHS senior Lukas Unseld said.
We can expect the members' order of enlistment to be the following:
Min Yoongi/Suga in March 2023
Jung Hoseok in February 2024
Kim Namjoon in February 2024
Park Jimin in June 2024
Kim Taehyung in June 2024
Jeon Jungkook in June 2024
Nevertheless, BTS remains optimistic about the upcoming future, continuing their live streams and posting on social media for updates regarding their lives. Although it's sad to hear one's favorite band take a break, ARMY still remains hopeful as BTS expresses their intention to return back to their music after service. Until then, fans worldwide continue to show and encourage support for the band's new era, and look forward to following them along the journey.