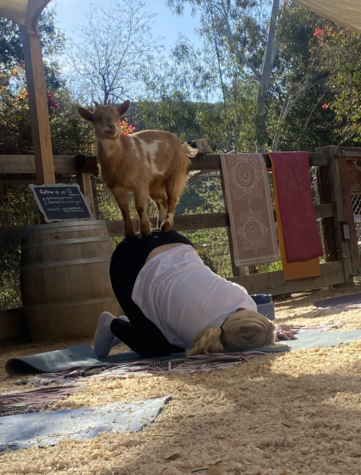 Jenna Forss | Writer
February 2, 2023
Goat yoga is a new creative fitness phenomenon that is sweeping the globe. With its outwardly quirky appearance it raises the question: is this experience really worth it or is it just another Instagram photo-op?
Almost directly off the St. Junipero exit of San Juan, one can stumble upon Goats and Goods, a quaint plot of land filled with a mish-mosh of activities and areas all wrapped up in a homey, farm-like aesthetic. Take the climb up Trabuco Creek Road to be greeted at the entrance by witty signs, goat-yoga-themed t-shirts, and an array of other items that make up a shop at the front of the establishment in a whimsical little shed.
My friends and I decided to take on this new phenomenon one bright Sunday. We immediately were welcomed into this atmosphere when we were instantly greeted by two of the sweetest dogs roaming around the goat farm. Everyone had a few minutes to look around the farm at whatever they pleased before we were brought to the pen area further back in the establishment. An array of blankets were laid out on the dirt floor to keep our mats clean. We laid out our mats in anticipation, periodically craning our necks as we tried to catch swift glances or snapshots of the neighboring, fenced enclosure that housed the goats that would be embarking on the yoga class with us. 
At Goats and Goods, there are two options for yoga, Goat Yin Yoga (1 hour for $30) and Baby Goat Yoga (45 minutes for $40). We chose Goat Yin Yoga for the price and extended time, so we were surprised when the gate became unlatched and we were greeted with 3 adult goats and about 5 babies too. Junior Mika Kuhne took an extra special liking to "the twin baby goats, Flora and Fauna, they were adorable!"
Personally, I expected to have more of an affinity for the baby goats, but even the adult goats found a way to steal my heart. A full-grown goat named Blue Bell cuddled up next to me after half of the class consisting of only a few goats being coaxed to jump on top of you for a few seconds with the promise of food for them. It appeared that Blue Bell had gotten tired of following the worker around for food, so she just curled up next to me. Even though she disrupted some of my stretches it was definitely worth it and the highlight of the class for me. This special experience did not happen to everyone though, out of our relatively small class, only me and one other girl had goats cuddled up with them for extended periods of time. The rest of the goats were just milling around.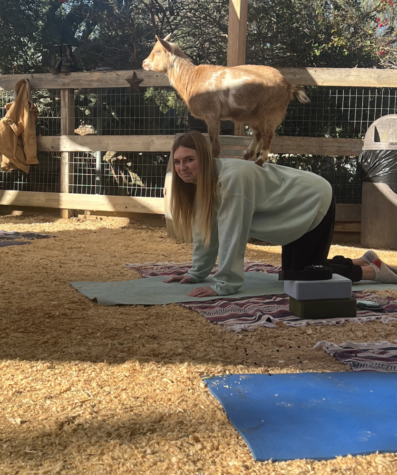 In the words of fellow goat yogi, Amelia Clarke says "Everyone should definitely try this out!". Despite some arguing that it is a little pricey for an outdoor yoga class, my friends and I all believe that you get what you pay for. Our class that Sunday was relatively small, it consisted of 8 people and 6 of them were my friends and me, so it practically felt like a private session! The yoga itself was a nice stretch, but honestly, the majority of it was spent being rightfully distracted by the goats. Having their hooves on top of you while in a downward dog or cat-cow is a must-do. The combination of meditative breath focus and the overall atmosphere really calmed me as well. A final part of this experience that made it even more special was the closing message of the instructor who used her personal anecdotes to inspire us to follow our dreams and do what makes us happy. She told us without this moral in mind she would never have opened Goats and Goods.
Take a chance and try something new. Goat yoga is a trend for a reason. Stop at Goats and Goods for an event you will never forget.