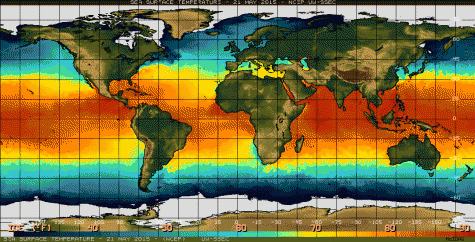 By Claudia Pacheco | Editor in Chief
September 11, 2015
The tropical effects of El Niño will hit the Southern Californian coast this fall and peak in the winter of 2016 with a force more intense than El Niños from previous decades. Scientists predict, based on the recent unusual atmospheric and oceanic trends, that the downpour of rain this winter will flood much of Orange County, causing mudslides more dangerous than those of the infamous El Niño of 1997 – 1998.
Because the 1997 – 1998 El Niño forced rescue teams to save coastal residents from massive floods in Laguna Beach and other parts of OC, officials are now warning residents to take precautionary measures for possible floods. Also, the seventeen lives lost in that El Niño leaves many Southern California residents anxiously awaiting the outcome of this "Godzilla" El Niño.
On the other hand, surfers are already embracing the effects of the tropical storms caused by this El Niño. With the steady 75 degree water temperature and the 4 – 6 foot waves this past Labor Day weekend, surfers are buzzing about the swell possibilities for the upcoming season. Freshman Riley Getz remarked that he is beyond thankful that "zero period surf isn't freezing and hopefully will stay warm for a while."
We also caught up with freshman surf king Barrett Miller, who disclosed that he is most excited to surf the local beach breaks, as well as Cottons and maybe even Killer Dana. He told us that he questions whether this El Niño will rise up to all of the current hype, but that if it does, he hopes he "won't break a bunch of boards."
Along with the potentially groundbreaking swells, this El Niño may bring the rain and snowfall that sunny California desperately needs. Scientists are not quick to conclude yet whether this El Niño will alleviate the drought or not, but many residents are crossing their fingers for the sake of our water supply.
As for our Tritons, do not feel "too cool" to pull out the rain boots and umbrella from the back of your closet for this upcoming season. Chances are you will need them. And to all our freshman readers, be safe on the slippery hill, especially if mischievous seniors decide to soap it up as they have in past years.
Thanks for reading and stay updated to see how this El Niño plays out!