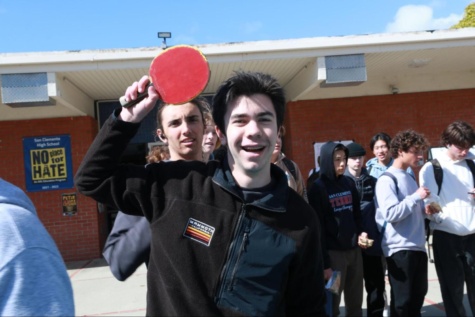 Anthony Wu | Head Editor
March 3 2023
San Clemente High's 2nd annual ping-pong tournament kicked off last Tuesday, bringing together over forty-five contestants to compete for a $25 chick-fil-a gift card. 
"The first day was hectic," said Vice President Spencer Mallgrave. "But getting people hyped about ping-pong was epic." Rounds of players were swarming in front of the library to watch the games and forehand topspin their way to victory. The most notable match was Mr. Oliphant v. Roman Calentino, with the teacher beating the student in decisive fashion. 
On Wednesday, in perhaps the most windy day of the tournament, Mr. Gardner, a ping-pong legend back in his high school days, swept to automatic victory when his opponent didn't show up. In a notable match, Colton Hatfield, an avid ping-pong player, upset Miles Spink and began his destructive path toward the Semifinals. 
The next day witnessed Issac Gould, who has a reputation for throwing games, demonstrating his skills in Thursday's greatest upset, coming back from a 7-9 deficit to win 11-9 against Mr. Oliphant. With a 50% chance of rain, history may have taken a very different turn, but by a miracle, the pouring ended thirty minutes before the tournament began. Andrew Sherreitt, a sophomore and rising-star in the world of San Clemente ping-pong, won two matches in a row despite a strong showing from Dallin Hansen and Kai Olsen.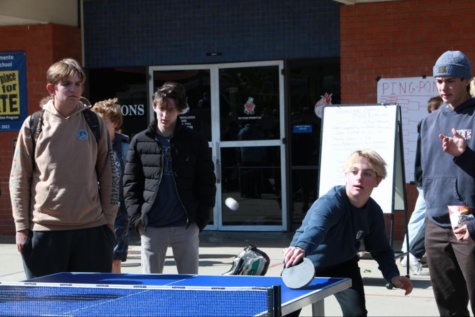 The quarterfinals continued on Monday, after a rude interruption by the rain on Friday. Ray Hickman, a senior who only recently burst onto the ping-pong scene, upset Cole Mostert in a game of the century, moving on to defeat Colton Hatfield in an intense back-and-forth. Issac Gould, returning to his old ways, threw against Andrew Shereitt, who went on to defeat Pierce Kerrigan in the Semifinals.
1 week after the tournament began, Ray Hickman vs. Andrew Shereitt made it to the morning announcements. Dozens of students from all across the school came out to watch the final battle that determined who was the best in the school.
"Games of 11, first to 3. Begin!"
Match 1
It all started out promising for Andrew. His killer serves brought a momentum to his play and was the advantage he needed in crucial moments. 11-4 for Andrew. 
Match 2 
The crowd roared at every play, every smash. The rallies were long, with both sides playing it safe and pushing back and forth, too afraid to make a critical mistake. Miles Spink returned as the honorary announcer for the finals, commentating on every play and cracking jokes into the microphone. At 11-7 for Andrew, the game was close enough to put the audience on its toes. 
Match 3
With two games in the bag, all estimates pointed to a decisive Andrew victory. However, Ray wouldn't go down without a fight. He mastered the serve return, and each point was a battle of attrition, hitting left and right, back and forth. Tied up at 7-7, anything was possible. It went to 8-7 for Andrew and then 8-8, with Ray just on Andrew's tail. 
10-8. Is this it? Is this the point that will give Andrew the victory?
10-9. A killer game point, and Andrew's still one shot away from winning it all. The crowd is rumbling, and it's getting rowdy. Andrew's serve is returned high and he smashes the ball, ending the tournament with an 11-9 victory.
A personal offer of double-or-nothing to the winner is declined, and the 2nd ping-pong tournament in San Clemente High School's history is concluded with Andrew Shereitt joining Josh McDonald as ping-pong legends for the ages.