By El Seabern | Writer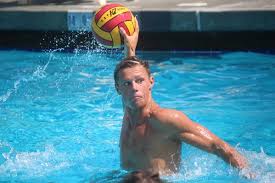 September 27, 2015
Climbing out of the pool after a vigorous two mile swim, the varsity boys' water polo team quickly changes and hurries to class, burning close to 1500 calories before most students alarm clocks have even gone off.
And this is only their first practice out of two to three a day.
This group of boys spends what seems like all their time in the pool, sometimes up to six to seven hours a day. Whether it be strenuous swim sets or hours of leg workouts, these boys are putting in all their effort to ensure a great season.
Coached by Mark Parker, who has been heading up the boys water polo program since 1996, these boys "have what it takes to do well this year," he said. Parker hopes to send these boys to CIF with every intention of bringing that title back, meaning there is no time for messing around.
Coach Parker also added, "Every second spent in the pool is very valuable time for this group to improve individually and as a team."
"There is a lot of work to be done," said senior varsity team captain Parker Bennis. "But if we keep up the intensity we have right now, we are bound to be successful."
After finishing 3-2 in league last year, the boys water polo team has their work cut out for them to keep their title in the South Coast League and into CIF. Each team member has the determination and mindset to make an undefeated season possible. Their attitudes and relationship inside, as well as outside, of the pool are strong enough to carry their team to a championship. After a successful start to the season with a 10-8 victory against Tesoro, our Tritons water polo team hopes to continue the streak of victory.
Watch next week at the home game on Tuesday September 30th against Los Alamitos! This game is made out to be a high intensity game, determining the fate of our varsity team. Be sure to come and support our water polo team as it will be a game you don't want to miss!