By Katy Clemens | Writer   &   Branson Knowles | Writer   &   Baron Moran | Photographer, Videographer
The San Clemente girls' varsity volleyball team is off to a rough start in the 2015 season, slumping to a 1-4 record so far. However, the lady Tritons are coming off an impressive 3-0 sweep of Tesoro on Tuesday, October 6th in their most recent victory.
On her way to Iowa State for a volleyball scholarship, four time returning varsity player Cali Hoye and team captain said, "We're ready to rebound this season. The team dynamic is more serious and confident because we are all motivated to do well." Below, Hoye delivers one of her team-leading 35 kills against Corona Del Mar on September 24th.
Senior Michaela Hurlbut is currently leading the team in kill percentage with a demanding 62% for a total of 18 kills. As for the defensive side of the floor, junior Cassie Stewart and senior Claire Daniel are tied on the leaderboard with 9 solo blocks!
Against Corona Del Mar, they started out the game strong with an aggressive 16-10 lead in the first game, capping that off with an early 1-0 game lead. After back and forth battles, the team eventually fell way behind 13-24 when the fourth game rolled around and on the wrong side of an upset, tying the match at 2-2.
The Tritons would go on to lose the final game but in spite of the loss, senior team libero Camille Davey made some remarkable defensive plays to help keep the Tritons in it.
"She dug everything that came her way, and then some," Michaela Hurlbut said. Hurlbut chipped in an impressive five serving aces during the match.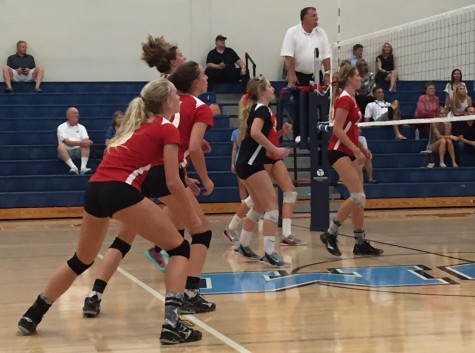 Going forward this season assistant coach Riley Murphy stated, "I just want the girls to play their hearts out and leave everything on the court."
Being together since freshman year, the team has developed great team chemistry and are ready to execute in their final year together. Based off of what we saw from a viewer's standpoint, the starting line up looked mean, lean and ready to compete. If the squad can continue their motivation and hard work, it looks like it's going to be an amazing season!