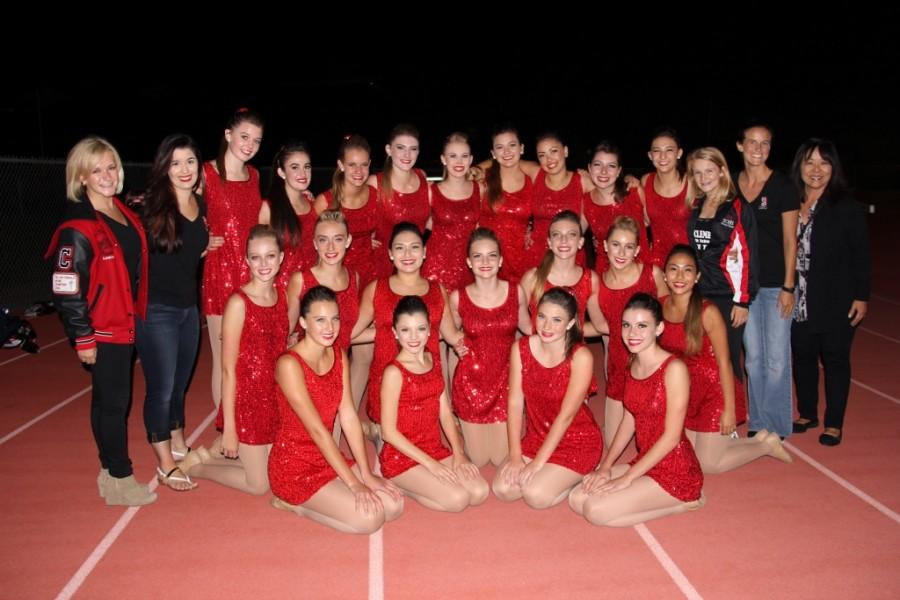 By: Solana Loust | Writer   &   Ava Sterling | Writer   &   Mitch Taccolini | Writer
While most of the San Clemente High School students of the  2015-16 school year are already starting to get bored with their daily class regimens, a few programs seem to keep students on their toes, literally. The SCHS Dance Team program and the IB dance program both bring a new level of excitement and variety to students' schedules.
The SCHS Dance Team is one of the leading programs on the San Clemente campus. Remaining US National Champion 14 times, San Clemente's dance team is one of the most successful and top awarded teams around. Some of their National Champion titles include medium lyrical and best choreography in medium lyrical in 2013, character in 2012, and grand champion in 2010.
Not only do they spend hours practicing and rehearsing to prepare for six major competitions but these dedicated girls also dance at football games, basketball games, pep rallies, showcases, and spirit assemblies. This dedicated group was even acknowledged by Capistrano Unified School District for successful Regional and National Champions, given recognition for involvement in the County of Range Sheriff's Department/ Adept ( Alcohol Drug Education Prevention Team) program, and also participated in community events including Red Ribbon Week, Relay for Life, Elementary Children's Dance Clinics, Hunger Walk & FAM Support, and HALO: Healing Autism through Learning and Opportunities program.
Elysha Romano, a junior on the team, said "My favorite thing about dance team is that I get to do what I love everyday with my best friends. We are like a family and I love each and every girl on the team." The girls also said that they don't mind the long hours, considering they get to spend their time working together.  Lauren Chong, another junior member, said "I wouldn't trade my membership for the world."  These girls dedicate their whole life to SCHS Dance Team and wouldn't have it any other way.
In addition to the award-winning dance team, another program for students brings dancing to more than just a group of girls. Now under new and exciting teachings of instructor Ms. Peterson, the IB dance program has transformed into one of the most iconic programs on campus for all students alike.
The IB dance program is filled with action-packed, creative dancing that ranges from dances that seen in everyday life to cultural dances, such as river dancing, all the way to Latin American dances like the salsa. Not only is the class filled with new and interesting dances, but it also teaches these students the background historical context of each dance, important historical figures, and how they affect modern cultural as we know it today. Senior Danny DiGiacomo said, " The reason I first joined the program was for the extra GPA point but now that I've been in it for more than a month I appreciate how it has let me open up and express my true self." Another senior, Camille Davey, said that after the class she has thought about "continuing to learn how to dance in the future to expand her knowledge and skills in the performing art of dance." 
At the end of the year, the IB dance program and the SCHS Dance Team collaborate on a performance with other programs such as ROP dance. The SCHS Dance Team and the IB dance classes are only a few of the iconic programs that make San Clemente High School a jive.