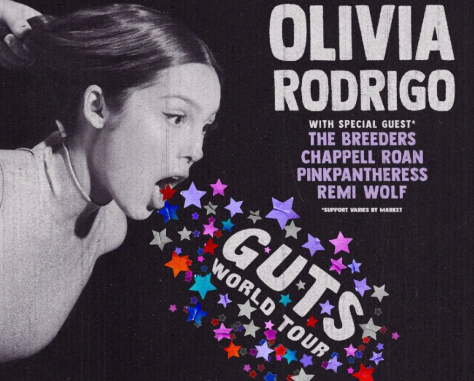 Sienna Miller | News Editor
September 15, 2023
Olivia Rodrigo made her debut album with the hit song, "Drivers License," in 2020, and women all over the world have been waiting to see what she releases next. She is most known for singing about her life as a teenage girl, from heartbreaks to social anxiety. 
On June 30th of this year, Rodrigo released the hit "Vampire" and announced it as her lead single for her upcoming album Guts. The song has surpassed 100 million global streams. Then, she released another single in this album called "Bad Idea Right" on August 11th right before the album came out on September 8th. 
Her sophomore album is much more angsty and has a tone full of built-up anger rather than sadness. It's mostly about being pushed into the box as a teenage girl and the struggles that almost every girl goes through.  
"Her opening song, 'All American B***h' is my absolute favorite," said junior Sarah Deroseirs. "It really illustrates the expectations placed on young girls to be perfect. I think the song 'Pretty isn't Enough' does this as well."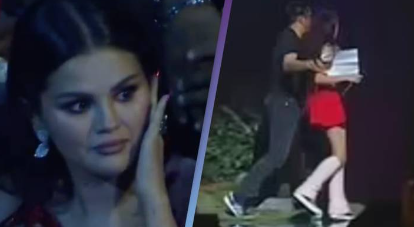 Rodrigo had the entire celebrity realm in shambles as they watched her VMA performance. Her skit was the stage falling apart as she sang her new album on September 12th, to represent the art of how girlhood feels like everything is a disaster. Huge stars – like Selena Gomez – were not expecting this stunt, and when the next song played as the curtains closed, everyone cheered in relief.
Rodrigo has also seen a plethora of hate in her adolescent career. Many people have accused her of copyright, like Taylor Swift's team; however, it has not been confirmed that Rodrigo has been sued for this claim. Many of the rumors that were saying she and Swift had a feud were shut down shortly after. 
"I've never loved her music much, but after hearing 'Vampire,' I had high hopes for the album," said junior Cora Gehret. "I was sadly disappointed."
Although there is some hate being thrown at her, I don't see this talented aspiring artist disappearing anytime soon. Within the first 24 hours, her second album earned over 6o million streams on Spotify. She is young and is slowly finding herself as an artist and a teenage girl, making the world tuned in on whatever she does next. 
On Wednesday, September 13th, she announced 57 tour dates across North America and Europe. She comes to Los Angeles in August of 2024, so for those who liked the album make sure to buy presale tickets now!