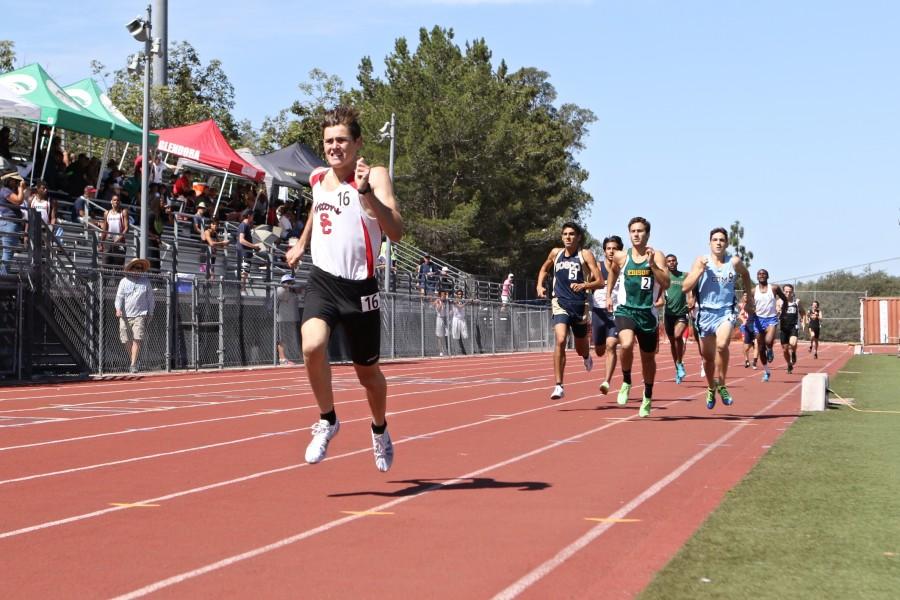 By Coltyn Steinheimer | Newspaper Contributor
October 16, 2015
Many people know the names of the premier SCHS athletes: Sam Darnold, Jake Russell, Cole Fotheringham; but when it comes to sports other than football and basketball, student athlete names fade away with the wind. It is quite a shame that many people don't even know the name of one of the most prestigious athletes that SCHS has ever had, and he's currently a senior at our high school: Connor Dunne.
Connor Dunne, has participated in both SCHS Cross Country and SCHS Track and Field since freshman year, shattering not only past school records, but even his own records and people's expectations of what a high school athlete truly can be. Dunne now holds the records for: the Varsity 1 Mile, Varsity 2 Mile, Varsity 5k for Cross Country, and the Varsity 800m, where he ended up going to compete with some of the most amazing and prestigious athletes in the world during the summer as a semi-finalist in the USA Track and Field Team. Yet, none of these amazing achievements have even been heard of outside of the community of Cross Country/Track and Field. Why is that?
Why hasn't the Orange County Athlete of the Year for three consecutive years not gotten the recognition that he deserves, while other sports like football, basketball, and water polo get more recognition?
I propose that it is entirely due to the community of San Clemente. The entire idea of "One Town, One Team" implies the football team, as the only the football team. This is further shown with the flags/posters hanging around the street lights showing more popular sports like basketball, football, and even ASB, who, as far as I am concerned, has done nothing major to San Clemente like sports have, but yet they receive a poster for making paper signs and helping organize registration? Does not seem fair considering the requirements of sports, and all that ASB requires is an interview, being able to paint a poster, and helping around campus.
The Cross Country Team, boys and girls, never get recognition for any major accomplishment they have achieved through their extremely hard training, dedication, and consistent improvements to do better and better. It is a rare occurrence to get any information or congratulations for their races or record breakings. The only time I recall ever hearing an event being announced on the intercom was when Dunne broke the school record mile time with an impressive 4:16 at the San Clemente Invitational.
Dunne is probably one of the best athletes that San Clemente High School will ever see, but yet has received little to no recognition for his numerous record breakings, amazing race times, and being part of a national team. This future United States Olympian deserves the respect and recognition from all of his hard work, both on the track and in school.
In other words, you could say that he is getting it "Dunne".