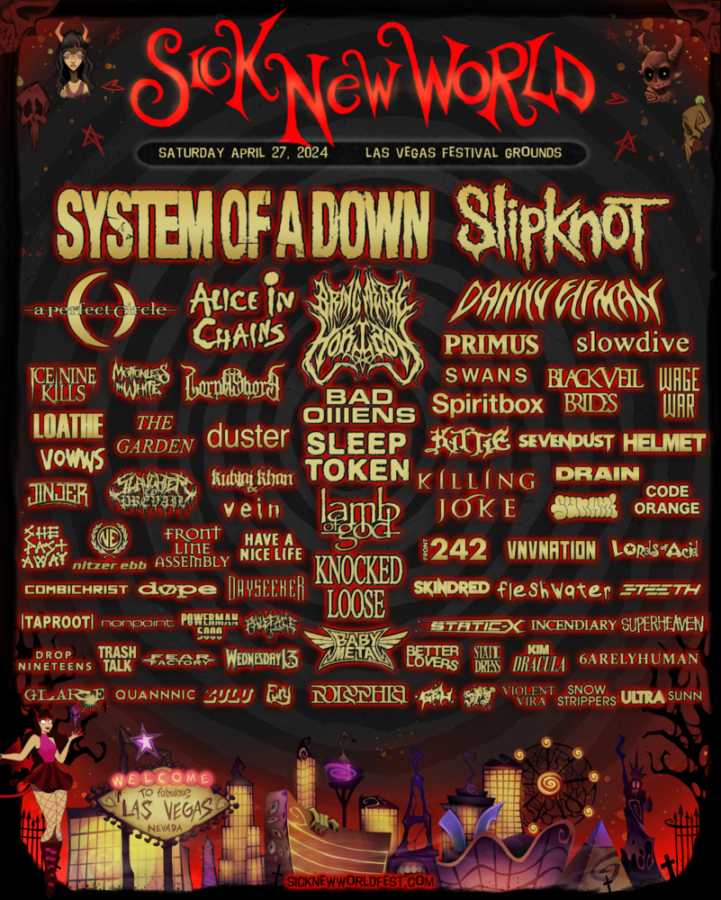 Sophia Bird | Writer
November 19, 2023
Making its debut in spring 2023, the metal festival Sick New World has recently become known around the world. Located on the Las Vegas Festival Grounds, this concert is coming back for another round. On October 9th of this year, the lineup was announced via Instagram through the Sick New World account and various artists who are playing this year. The headliners include System of a Down and Slipknot who are both giant names in the nu-metal scene. System of a Down also headlined last year, making a surprising comeback as they have been around since 1994 and have taken large breaks.
"While the lineup is very diverse and kind of weird, it'll be a good show with an even broader audience" senior Ash Deroo explains. As a long-time fan of System of a Down, he would be "personally very excited to see them, even if the other artists aren't as appealing." Even though he's seen Slipknot in concert (figure out how many times), he would love the chance to go see System of a Down. Nu metal is one of the more popular metal genres, pioneered by the band Korn. Their debut album Korn (self-titled) is largely credited with being the first nu-metal album to be made. In contrast to last year, Korn is sadly not making an appearance this year and neither is Deftones (another big name in the nu-metal genre), which Deroo describes as "disappointing."
On the flip side of the same coin, senior Gianna Gallo is more excited about the shoegaze aspect of this concert. Some of these bands include Duster, Slowdive, and Fleshwater. Shoegaze features a lot of effect pedals and was named after the tendency of the drummer to stare down at these pedals, and emerged in the late 80s/early 90s. Slowdive is one of the more prominent names in the shoegaze genre, but its defining release is mainly credited to My Bloody Valentine. Gallo claims that she "likes that they incorporated a lot of shoegaze but doesn't know how that's going to play out with the fans of the heavier bands."
With a somewhat controversial lineup, Sick New World 2024 will surely be a memorable one. Tickets sold out within around five hours of presale, leaving many to scramble for the resellers' hiked prices. While these tickets will be expensive, the concert is completely worth it, and I would urge everyone who is into at least one band on the lineup to go. Make sure to bring water and stay hydrated, as last year, many were out in the sun for hours on end.