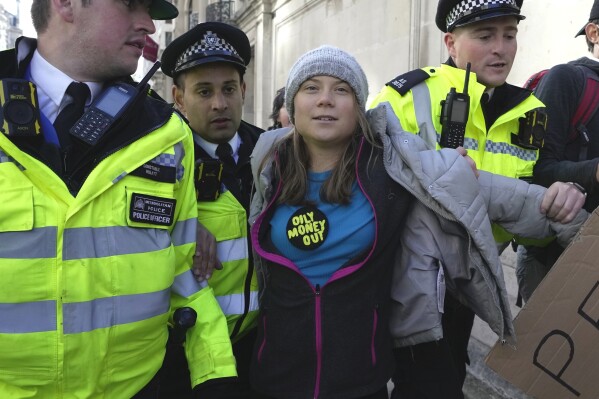 Chloe Gerhard | Writer
October 19, 2023
On Tuesday, October 17th, the widely known climate change activist Greta Thunberg was arrested along with 26 others while protesting against the oil and gas industry outside the 2023 Energy Intelligence Forum in London. After Thumberg's arrest, the Metropolitan Police reported that the Swedish activist was charged with a "Public Order" offense for not complying with a Metropolitan Police order to leave. Thunberg was later released overnight on bail. 
Thunberg has become the face of a youth movement demanding a transition to renewable energy and climate change awareness. This is not the 20-year-old's first brush with authorities. It's her second arrest and she has been removed from the scene of protests by police three times. The first took place in January of this year, when Thunberg took part in a protest in Lutzerath, Germany to stop the demolition of a village to make way for mine expansion. After refusing to leave the premises, Thunberg and the rest of the protesters were removed by force by police and bulldozers. She was arrested for "refusing to obey police command" and then later released on bail.
The 2023 Energy Intelligence Forum, in London is her most recent target. The event's website describes itself as "A three-day forum for energy leaders to debate and shape sustainable solutions to the energy challenges of the 21st century." Thunberg was part of a group formed by the climate group Fossil Free London. They pointed their protest at oil companies and their CEOs for slowing down the world's transition to renewable energy thereby continuing their record profits. "The elites of the oil and money conference, they have no intention of transition." Thunberg told journalists. The activists were heard yelling "oily money out" while they blocked guests from going in the Intercontinental Hotel, in London's Park Lane.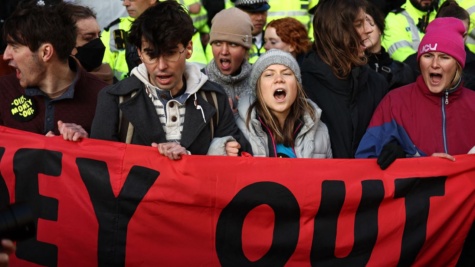 Senior Ava Martinez expressed, "It's climate change activists like Greta Thunberg that truly inspire change."
"The protesters were asked to move from the road to the pavement, which would enable them to continue with their demonstration without breaching the conditions," London police said in an official statement.
Arrests of climate change activists have become more and more common — especially in the U.K., where there's been an increase in controversial legislation in recent years. Governments and police have been given increased powers to shut down protests and arrest participants. The Public Order Act Thunberg was charged under is one of those powers many find overreaching. In fact, the United Nations called it "deeply troubling." 
Senior Sara Sims vocalized, "Greta Thunberg's influence as a very young activist is extremely impressive and her perseverance in stopping climate change is inspiring."
Thunberg has been ordered to appear at Westminister Magistrates' Court next month on November 15th.