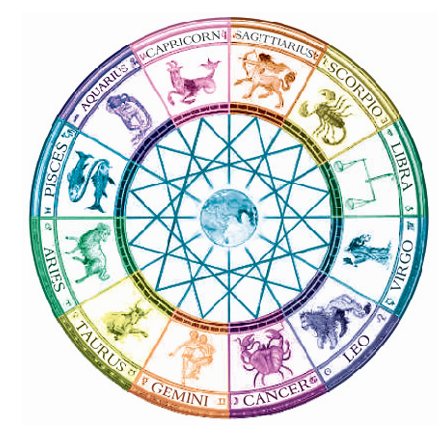 By Katy Clemens | Writer   &   Branson Knowles | Writer
Aries (March 21-April 19)
Be aware of your surroundings this week, or else trouble may find you. This could be a great week if you stay true to yourself and don't stray from any norm. Follow your intuition and all good will come your way.
Compatible: Gemini
Stay away from: Cancer
Taurus (April 20-May 20)
This could be a stressful week for you, but don't let it get the best of you. Don't cry over the spilt milk, there's always napkins to clean up after you. This weekend has great potential to relieve you of your many stresses.
Compatible: Sagittarius
Stay away from: Leo
Gemini (May 21-June 20)
This week is going to be a good one! Towards the end of the week the love bug will enter your life. Don't take advantage of the good entering your life though. Looks like Cupid came early this year!
Compatible: Virgo
Stay away from: Aires
Cancer (June 21-July 22)
Focus on your health because you never know what's to come in the future. Good nutrition and exercise is necessary to maintain your health condition. Don't take anything for granted.
Compatible: Scorpio
Stay away from: Aires
Leo (July 23-August 22)
You will soon experience an encounter with dangerous wildlife. Stay in shape because you never know when you'll have to turn on the jets. Keep your head on a swivel and be aware of your surroundings.
Compatible: Libra
Stay away from: Capricorn  
Virgo (August 23-September 22)
Try not to be so picky and critical, go with the flow and it shall benefit you down the road. Be grateful for what you are given and don't complain, beggars can't be choosers.
Compatible: Aquarius
Stay away from: Gemini
Libra (September 23-October 22)
Take time to balance school work and friends, to avoid an overwhelming, unbalanced life. Be sure to slow down and take time for yourself. Balance is key to a successful life!
Compatible: Taurus
Stay away from: Capricorn
Scorpio (October 23-November 21)
If you aren't careful, evilness will invite itself into your life. Don't reveal your true colors, because you may hurt the one that means the most to you. Always abide by the Golden Rule: treat others the way you wish to be treated.
Compatible: Cancer
Stay away from: Gemini
Sagittarius (November 22-December 21)
You will come along some relationship issues, It's time to totally re-evaluate what is going on between you and be brutally honest. Is it time for you to move on to someone who wants more of what you want? Ask them this question and see what they say.
Compatible: Virgo
Stay away from: Scorpio
Capricorn (December 22-January 19)
Self-discipline is going to be very difficult for you to achieve,there will be a lot temptation to distract yourself. So start off this week with an eye toward structure. Plan your day out to the minute. Keep yourself busy, and you won't have time to give in to temptation.
Compatible: Scorpio
Stay away from:Leo
Aquarius (February 19-March 20)
If you can keep your schedule flexible, today, you will be much more able to take advantage of a great opportunity that is coming your way. Toss all your expectations out of the window and just let things go the way they go. Hang on for the ride!
Compatible: Gemini
Stay away from: Taurus