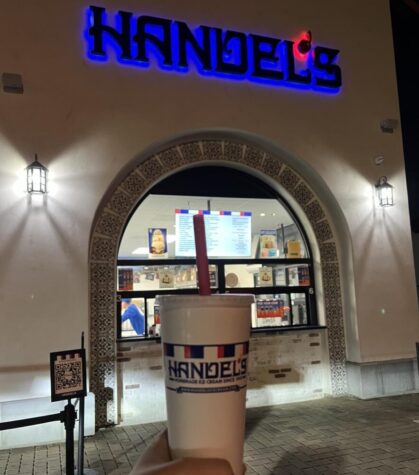 Nicolle Generaux | Editor-in-Chief
November 4, 2023
Looking for a nice, thick milkshake to guzzle down after a long, hard day? Or maybe just after a hot, fun lounge at the beach? 
If so, look no further: Handel's Homemade Ice Cream shop just off of Camino de Estrella is by far the best place to seek out this delicious treat. With over 100 unique flavors, including seasonal favorites during the autumn and winter seasons, customers have delighted in this ice cream shop since 1945.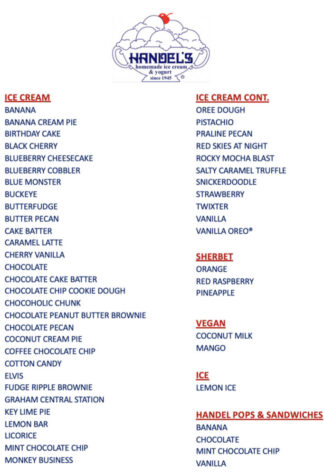 The Handel's chain was originally founded in Youngstown, Ohio, by Alice Handel, who made fresh batches of ice cream every day with her own methods and recipes. Since then, her legacy has stretched all across the United States to our city by the sea, which first opened in September of 2022. 
To say their menu has variety would be an understatement – Handel's has devised flavors ranging from more well-known items, like Chocolate and Cake Batter, to more exotic concoctions, like Heavenly Hash, Mocha Almond Fudge Ripple, and Cherry Cordial. All of these can come in ice cream, milkshake, monster shake, and malt form – making this the most extravagant and diverse menu around. 
"I'm lactose intolerant, but I'll still go to Handel's," commented junior Coco Bush. "It's the best place to drink a milkshake because they have so many cool flavors that already have all the toppings you could want mixed into them." 
And to add to it all, it has a wonderful environment: with pleasant workers, comfortable outside seating, and a mixture of 70's, 80's, and modern music playing. Handel's does not disappoint in its warm and welcoming atmosphere. 
So, please, drive down to Handel's to taste the most mouthwatering milkshakes in town! It's open every day from 11 AM to 10 PM.