---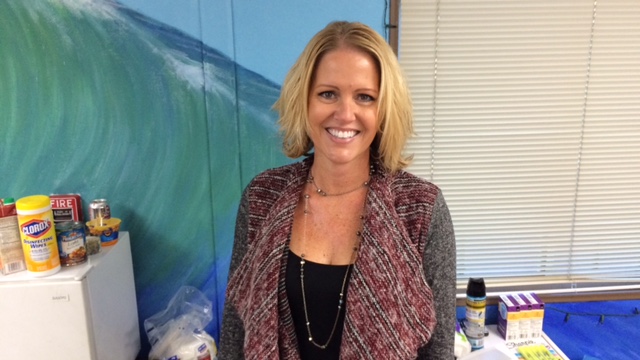 By, Katie Kendall | Writer   &   Melissa Whitsell | Writer
December 16, 2015
Ms. Cochrun, full time math teacher, sat down with us to answer the few questions we have about her life as a teacher, along with being able to work in the same place as her kids.
This is Ms. Cochrun's 20th year as a teacher and she has now taught five different math subjects, involving Geometry, Algebra 2 Trig Honors, Pre Calc Honors, etc. but told us that her favorite was "Algebra 2 Trig Honors for sure." We talked to some of her students, and Ashley Folia (Junior) expressed to us that her favorite part about Ms. Cochrun's class was the "daily enthusiasm she brings to the course." However, her life isn't entirely school related. Ms. Cochrun spends a lot of time watching her kids, Zach (Junior) and Courtney (Sophomore), play sports, running on the beach, hiking, cooking, and karaoke when she can.
When asked how she feels about having her own kids as students, Ms. Cochrun explained how much she loved it, but also how much she's "definitely going to cry when they leave. Especially how I know all of you. I'm going to miss all of you." Ms. Cochrun has become such a huge part in the lives of so many students, whether from being a teacher, a tutor, of the mom of a close friend, she is always there to help.
How do you keep your class fun, and make sure the students are interacting?
To keep the class fun "sometimes I let the students sit in groups, I try to let them work together in groups, and I walk around the class to try to interact with them, and I let them work in pairs." Within her class, she believes that communicating is important with helping the students understand what they're learning. She loves mixing it up as much as possible so her students don't get bored or annoyed with the teaching the same every single day.
What is your advice for your students to excel this year"
It is important to "check your answers in the back of the book, keep up on the homework to make sure you don't fall behind, and ask questions!" Students who want to succeed in her class with make sure they have an understanding of the topics.
Do you have a most memorable moment as a teacher?
"That's hard, obviously the bomb threat was an awful experience, but I would say the best moments I've had as a teacher were when I'm teaching my kids…I'm going to cry when they leave."
What do you enjoy most about teaching?"
"Being with high school kids, I love this age, and I, hopefully, am making a difference for my students." Being able to help kids learn, and seeing them grow in intelligence is one of Ms. Cohrun's favorite parts of being a teacher.
Student Quotes:
Ricardo Ashe( Junior)
What's your favorite part about Ms. Cochrun's class?
"Her attitude in the morning because since I have her first period she brightens my day with her excited moods everyday"
What do you like about her teaching style?
"I love how she explains the questions you have. When someone is confused she makes sure they understand before moving on."
Courtney Cochrun (Sophomore)
Do you enjoy having your mom as a teacher?
"I love it. Being able to have my mom as a teacher definitely has some rough spots, but in the end getting to see her every day and having her be there when I need her is amazing. It also makes it easier to understand things because I never feel uncomfortable asking questions when I'm confused, she knows me enough to know how to teach me."
You say there are rough spots with having your mom as a teacher, what would those be exactly?
"Definitely being set to a standard different from the other students I have in my class. Since she knows me so well she knows what I can do, well what she expects me to do. I have to be an 'example' for the other kids in my class, and she makes sure I know that too.