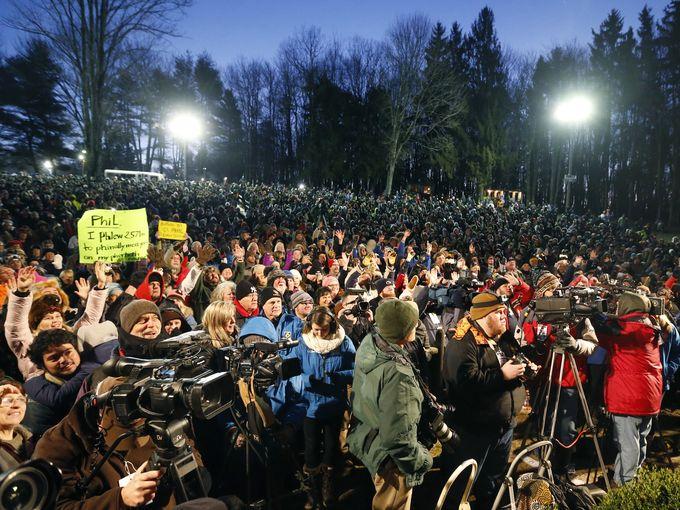 By, Katy Clemens | Writer   &   Baron Moran | Writer
February 5th, 2016
Groundhog Day is an annual tradition where a groundhog peeps out of its winter quarters.  If it sees itsshadow then it means six more weeks of winter, but if it doesn't then that means spring is coming early.  This event occurs on February 2nd and has been since 1887.  
Ever since the first year, Groundhog Day has taken place in Punxsutawney, Pennsylvania. Due to its location, the groundhog used each year has been named Punxsutawney Phil. The idea behind this holiday began in the ancient Christian tradition of Candlemas Day. On this day, the clergy would distribute candles needed for winter, and the candles represented how long the winter would be. The Germans then decided that a hedgehog would be used to represent the predictor of weather. When the German settlers came to America they continued on this tradition in Pennsylvania using groundhogs.
This year, Groundhog day took place in Gobbler's Knob Pennsylvania, and thousands of people showed up despite the 22 degree forecast.  Bright and early at 7:20am the famous rodent, Punxsutawney Phil, rose from his burrow to announce that spring is coming early. The people of Pennsylvania were ecstatic to hear the news of spring coming early because of the frigid winter they have endured.  Fireworks were set off to celebrate Punxsutawney Phil's verdict and the people of Pennsylvania cheered with joy.  
Although greatly popular in Pennsylvania, many other people around the country pay attention to this event. Cara Kitts (senior) explained, "I was excited to hear that the shadow was not spotted because Spring is my favorite season of the year, however I'm slightly disappointed that our winter came to an end early."  What many people don't know is that Phil is wrong more often than not.
According to US Today, which has tracked predictions since 1988, Phil, and the numerous other groundhogs that have played the role of Phil in the past, has recorded that the groundhog has been right 13 times and wrong 15 times.  Ryan Fuchs (Senior) remarked, "We'd be better off flipping a coin if the groundhog is inaccurate more than half of the time".  No groundhog has ever been 100% accurate in its predictions and there probably won't be a perfect groundhog anytime soon.