With three minutes left in the fourth quarter, San Clemente High School was down 28-32 to Cabrillo. The next drive for the Tritons would determine not only their success on that cold Friday night in September, but also the success of their season as a whole.
The Tritons marched down the field and scored the go ahead touchdown, an epic 68 yard scramble from Sam Darnold to take a 35-32 lead – a lead which would hold for SCHS as they would go on to claim a 2-0 overall record.
"Seeing the boys work together to comeback," San Clemente High School's head coach Ortiz said, "was a real testament to their character. It showed a lot of strength and determination."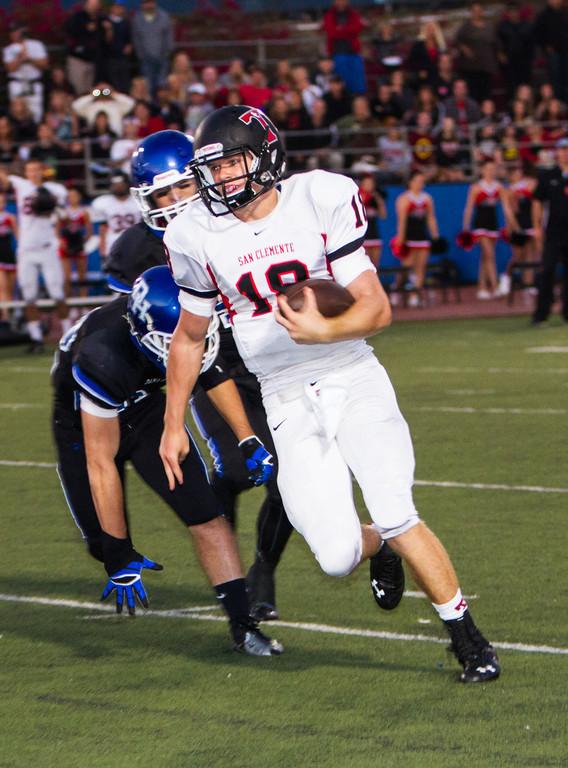 With Darnold at the helm manning the quarterback position, the Tritons seemed poised to have continued achievements, however in one short week it would all change.
A trip up the coast to Dana Hills High School would prove disastrous as it was plagued with numerous injuries to starters, including their quarterback Darnold. Coach Ortiz was distressed, reflecting that due to the injuries, "the rest of the season was an uphill battle."
The silver lining to the Tritons' shortcomings for the remainder of the season were the opportunities presented to the younger players, who now needed to step up and fill in for the injured upperclassmen. It was, as Coach Ortiz called it, "the next man up" ideology and that the team had to make "the best of a tough situation."
Rising to the opportunity was sophomore running back Vlad Dzhabiyev who finished the season rushing for 500 yards on 119 carries and three touchdowns.
Junior Jake Russell was also a standout for the Tritons, starting on both offense and defense. The diverse Russell scored a total of four touchdowns along with 41 total tackles and five pass deflections.
For next year, San Clemente hopes to recapture a winning season, built on the backs of underclassmen's experience. Go Tritons!