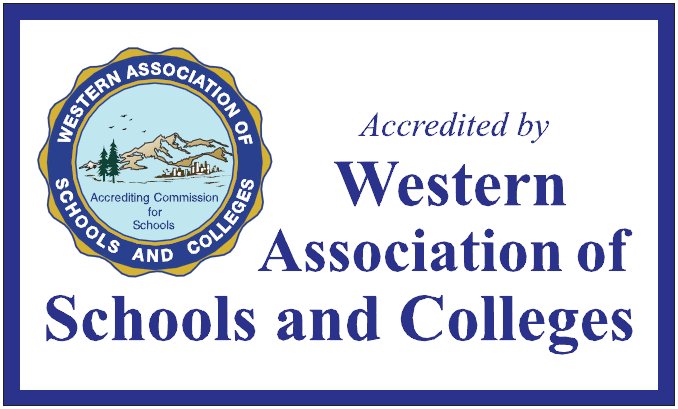 By Ethan Partridge | Writer
April 19, 2016
All students strive to attend the best high school available to them and to some, San Clemente may not be the first choice for high schools. However, depending on the decisions made by the WASC, our school may be accredited with being better than some may presume.
The WASC, or, Western Association of Schools and Colleges, is an organization that visits, judges, and eventually 'accredits' schools (verifies the school as a legitimate and progressive school) based on how well the school succeeds in teaching its students, establishing a clear purpose, and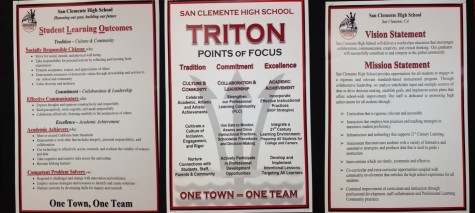 continually supporting its student body in all aspects of the educational experience.  This program's objective can be clarified by comparing it to how teachers use  SWBAT (Students Will Be Able To) in classrooms to explain the day's lesson. Essentially, the WASC is assessing how well these lessons are carried out school-wide.
San Clemente High School first applied for the accreditation when it first opened in 1964, and is now in the third year of the WASC's six-year cycle.  This includes a two day visit from April 25-26, where two representatives will visit the campus and assess the extent of the school's progress. On their last visit, the representatives asked the school to clarify its 'vision' and 'mission statement', which has resulted in the creation of several posters addressing specific focuses. If SCHS have met those standards, the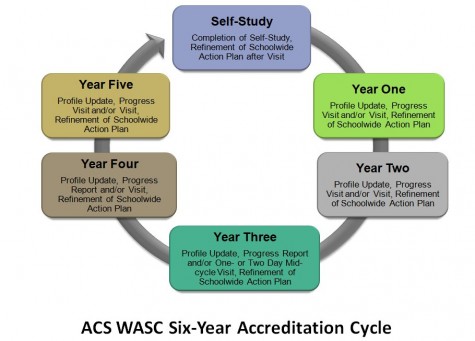 Association will continue us on our repeating six-year cycle. If the school falls short,  accreditation would be revoked, necessitating reapplication.
"This is the manual that contains all that we've done since their last visit," Mrs. Kerr said as she pulled out a one-hundred page packet, "And this is the summary," she said pulling out an additional sixteen page packet she created for all the teachers. Mrs. Kerr is the head of relations with the WASC at SC, and will be meeting with them on the 25th and 26th to make sure that everything goes well. "On Monday, they [the representatives from WASC] will go into random classrooms for periods 1, 2, 3, 5, and 6, and take notes, maybe talk to a few students or teachers, and they'll have lunch with the ASB," Mrs. Kerr said. "On Tuesday, they'll just stay the first two periods."
After their visit, the representatives will decide whether or not SCHS has accomplished the objectives the program has created. As the cycle continues and WASC provides new objectives, San Clemente High School will become an even more remarkable place to learn.