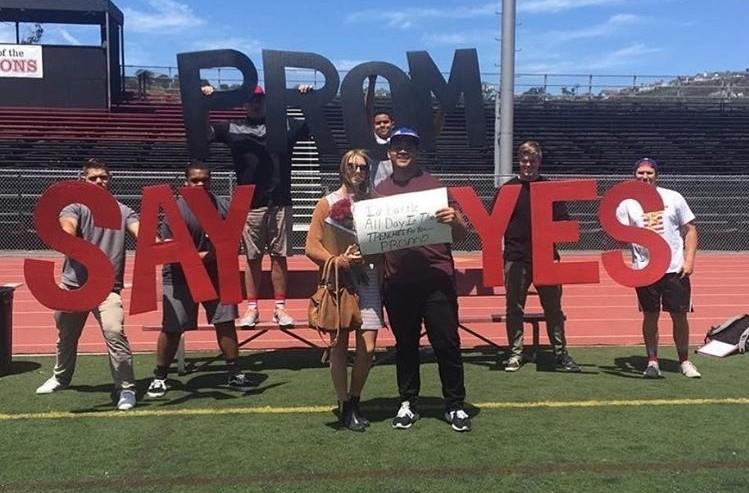 By Maya Fransz-Myers | Media Editor   &   Ily Macpherson | Sports Editor
April 21, 2016
With prom just around the corner, students who haven't already are struggling to find a date to the dance, and those who have already found someone are concocting a clever way pop the question. In the midst of AP testing, SATs, and never-ending school work, students are searching for time to find the perfect date, the perfect dress, the perfect perfect party bus – all for the perfect night.
The dance is reserved for only Juniors and Seniors, many of  which plan on attending. Yet the most important part about Prom is the way someone is asked. Senior football captain Donte Harrington, who asked fellow senior Jodi Cusey, said, "I wanted to try harder this year with my Prom-posal since it was my senior year. I started thinking about what I wanted to do a lot earlier this year and I came up with my idea to involve my teammates. My main goal was to let my d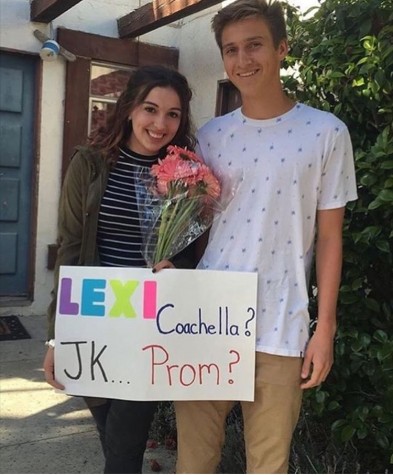 ate know that I put a lot of thought and effeort in asking her."Junior JW Parrish, stated that he asked by "using red solo cups and spelling out 'don't let me go solo to prom," he continued by saying that he "surprised her at her friends house after school." His date, Junior at OFL Julia Harry, described the experience as "very exciting, and I was glad one of my very good friends asked me!"
Some of the best memories of high school happen in gymnasiums of school dances. Without a great "promposal," prom just seems like any other school dance that costs eighty dollars for a ticket, plus more for the dress, the tux, the shoes, and everything else. Junior Lexi Camarena recalled that "Getting asked to prom was really exciting!" And this year, students are able to see the different "promposals" thanks to a student-run account on Instagram. The account "schs_promposals" features some of the recent "promposals" to help with ideas for others and to keep students updated on the progress of prom itself. Camarena noted that "'promposals' is a funny way t stay updated on who's been asked to prom."
The dance is scheduled for Saturday May 7th, just a little more than two weeks away. With the date fast approaching, here's some tips for both the guys and gals who are being swept up in the Prom drama: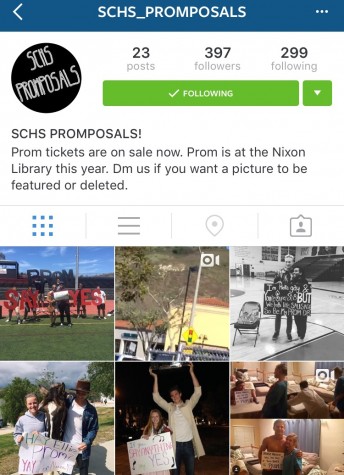 Guys: use a creative idea to ask someone to Prom. Using ideas you see from Instagram or Pinterest is adorable but if you really want to get that date, think of something original that involves some
thing a girl likes or a sport she plays.
Girls: don't stress! If someone doesn't ask you to Prom, then go with a group of friends. You wouldn't want to miss out on one of the best times of your high school experience just because you won't have a date!
Guys and Girls: wear something that you like to Prom. If you like what you're wearing and show it, then others will too! It's just a school dance, no matter how hyped up it gets.
With the date approaching, girls are rushing to find the perfect dress and guys planning the perfect promposals. In spite of the stress surrounding the event, prom will be the night to remember in your high school experience.
To see more updates on "promposals," follow @schs_promposals on Instagram!