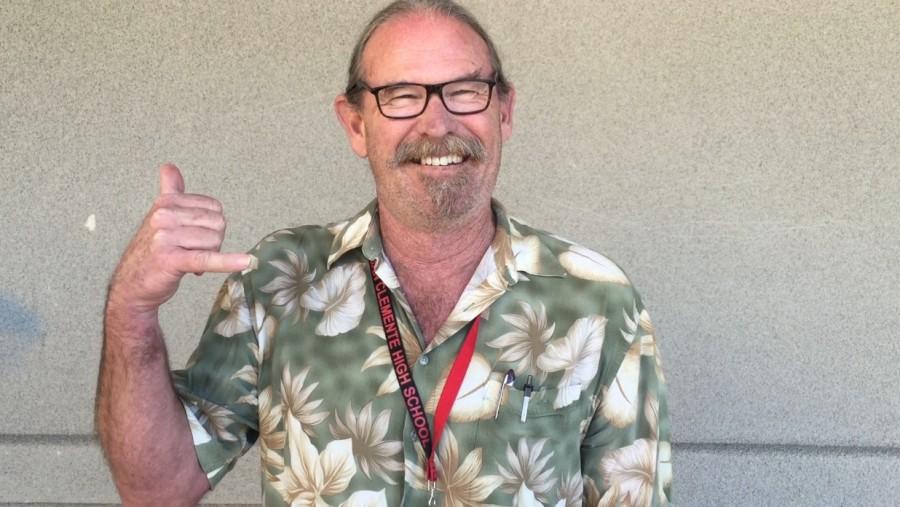 By Carly Watts | Writer    &    Cole Taylor | Videographer
April 21, 2016
San Clemente High School teacher Mr. Duncan Wilson has been a part of the Triton family since he attended high school here back in the day. Growing up in San Clemente, he was an outdoorsy child always looking for adventure with his identical twin brother. Throughout high school, Mr. Wilson explains that he had a sort of yearning to help others; this want later helped him realize his desire to become a teacher.
Now that he has fulfilled his dream, Mr. Wilson clued us in to why he loves teaching. He exclaimed, "We have a unique staff, a unique school, and I like how the school hasn't changed much since the late 60's." Then, the enthusiastic teacher began to recount the memorable story of his 2015 nomination for "Teacher of The Year," detailing, "My first thought was that I was actually kind of embarrassed because I was nominated, but I didn't know who nominated me. I've been recognized a couple of times before over the years for teaching which is really cool, so that makes me feel like it's time for someone else to be nominated, but that I'm generally honored to have received the award."
While interviewing him, Mr. Wilson said he didn't tell any other teachers about his nomination because of his embarrassment, but "to be recognized in the city you've been in all your life is really rewarding. I have to admit, I'm pretty stoked."
Outside of school, Mr. Wilson is involved in numerous other activities throughout the community. He spends a lot of time with the Surfing Heritage and Cultures Center, being that he is the chair of the education committee, so he does a lot of activities involved with teaching. Also, he helped organize the very first Ocean Festival and plays the bagpipes at memorial services throughout the city. Though these recognizable qualities of Mr. Wilson, he has many other hobbies. Mr.Wilson enjoys going surfing whenever he gets the chance and his children are a huge part of his life, so that's where he loves enjoying his free time. He has 5 kids, and he says they keep him very busy, but he loves spending time with his family. Mr. Wilson says that he prioritizes life, with family coming first, work second, and eventually, way down at the bottom, he gets to enjoy the things he wants to do. He did note that he makes time for himself too.
I had the pleasure of being Mr.Wilson's student for my sophomore biology class. Throughout the year I struggled with the material and he was always there for extra help and support. His teaching style is very relaxed and he takes the time to work with each and every student. From lectures, to labs, to videos, to fun, Mr. Wilson was an overall great teacher and I believe just as much as everybody else who attends, has attended this school or has had Mr.Wilson, that he deserves not only the award, but always a place in our hearts.