By, Maisie Shea | Writer
May 5, 2016
It's reasonable to assert that every freshman struggled during the first day or first couple of weeks at high school. We struggled to fit in, find our way around, and stay out of an upperclassman's way. Link Crew, a creation new this year, is a club formed to tie freshmen to upperclassmen in order to make their first year at SCHS just a little better. "Link Crew is a freshman transition program that welcomes freshmen and makes them feel comfortable throughout the first year of their high school experience. Being a part of Link Crew means that you will have an opportunity to impact school culture at San Clemente High School and make a real difference in the lives of your fellow students. You will also receive leadership and mentorship training that will still be applicable long after you leave our school! " explained Miss Dimperio, the Link Crew's supervisor.
Link Crew promotes school safety and anti-bullying across the nation. Its main goal is to provide schools with a structure to allow students to make real connections with their classmates. According to www.theboomerangproject.com, "More and more studies have shown that if students have a positive experience their first year in high school, their chance for success increases dramatically. Link Crew provides the structure for freshmen to receive support and guidance from juniors and seniors who have been through the challenges that high school poses, and understand that the transition to a larger school can sometimes be overwhelming. "
We sat down with Link Crew supervisor, Miss Dimperio, and asked her a few questions.

Why did you decide to bring Link Crew to SCHS?
The transition into high school can be hard for some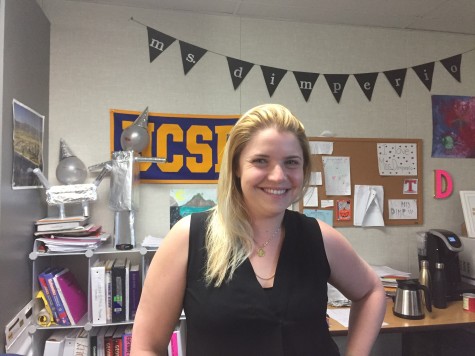 people and Link Crew was designed to welcome freshmen and make them feel more comfortable throughout their first year of high school.

What changes do you hope to see within our school with this new program?
If students have a positive experience their first year in high school, their chance for success increases dramatically.  Link Crew was created to provide a way for freshmen to receive the support and guidance from upperclassmen who have already been through the many challenges a person may face throughout high school.  
In what ways do you think Link Crew will be beneficial to SCHS?
We have so many positive role models here at San Clemente that can be mentors, and Link Crew will allow them to be.
Were there more applicants than you expected there to be?
Yes. We had over 150 applicants and a variety of students.  
How much of a positive impact do you think this will have on freshman?
Link Crew has been very successful in schools across California. We expect that Link Crew will create a bigger sense of belonging to the SCHS community and will affect the school in many positive ways. Most likely this will shown through increased participation in school events, decreases in freshman fail rates, and overall long term increase in high school graduations.
On upperclassmen?
I think that Link Crew will not only be beneficial for freshman, but also for the upperclassmen that become Link Crew leaders.  As Link Crew leaders they will learn how to be a better and more effective leader and role model that will continue to help them in their lives after high school.   
It is currently too late to sign up for the upcoming year's Link Crew, but a year from now you will have a second opportunity to sign up and be apart of this awesome new club!