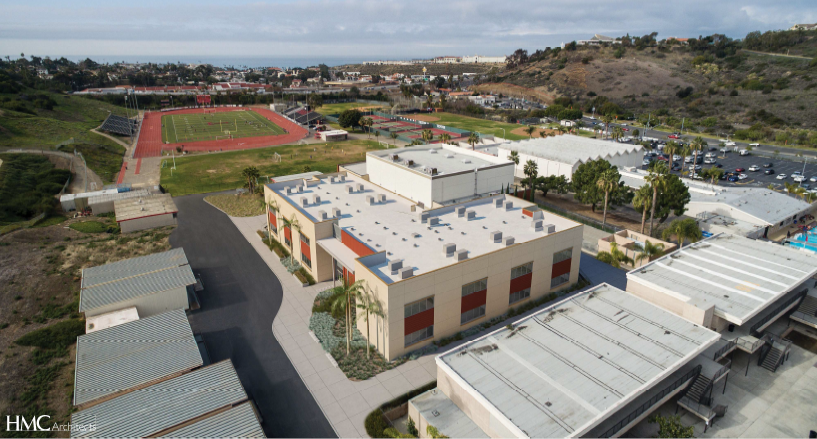 By: John de Koeyer | Writer
October 10, 2016
The construction of 24 brand new classrooms on lower campus started on October 12 of this year and is expected to be completed by August 22, 2017.
This new two story building will wrap around the Auxiliary gym, covering up where the teacher parking lot and basketball court are now.  Cutting-edge designs were submitted and approved by HMC Architects and feature classroom doors which "will open up to an inside hallway unlike any other part of the school" according to Principal Carter. "All the classrooms on each floor will serve as a specific department so not all students from upper campus will move directly into the building." The department that is expected to move is not known at this time.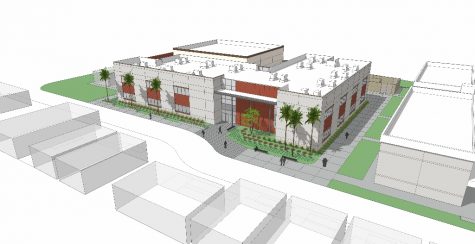 As a result of this new structure, upper campus will become obsolete. History teacher and tennis coach Mr. Stevens attended Ole Hanson Elementary (today the upper campus) in grades 1st, 3rd, 4th, 5th, and 6th grade and is "bummed" to see it go. As a teacher on upper, he said he "loved the peace and quiet" but the buildings are getting old he understands it is time for a change. This will be the 13th and final year upper campus will be apart of SCHS as classrooms, with construction expected to start soon after these classrooms are built. 
A major key to closing upper campus is students will no longer have to navigate the hill. This will help ninth graders ease their transition into high school.  Andrew de Koeyer, a freshman here, said, "It can be a long and exhausting walk between the Lower and Upper campuses especially on hot days because there is no air conditioning on upper campus." He is "happy" that he will not have to walk the hill next year but "disappointed that next year's freshman won't have to suffer the same pain" dealing with the hill.
There very few negatives to come of the changes but Principal Carter says he is "concerned" about the amount of traffic flowing through the lower campus next year. "There are about 600 students dropped off on upper campus" with one entrance and exit to the main parking lot, which could slow pick-ups and drop-offs. 
For the 2017-18 school year, Principal Carter is "looking forward to creating a unified campus again" where all students ninth through twelfth will be together. This will allow the staff to run the campus more efficiently as they are "operating almost two different staffs, up top and down below, and bringing everyone to lower will allow the school to service all students more appropriately."