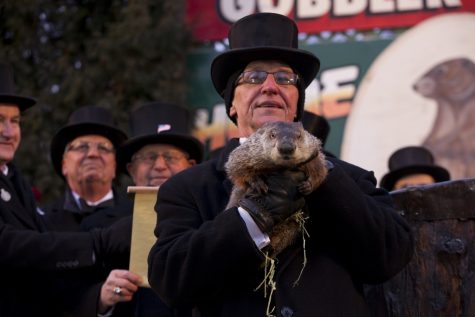 By: Brooke Herbes | Social Media Director   &   Geoff Osuna | Photography
February 10, 2017
On February 2nd, for the past 130 years, a rodent meteorologist has been dictating whether or not there will be six more weeks of winter. According to lasting tradition, if the groundhog sees its shadow, go ahead and expect six more weeks of winter weather; if he does not, we get an early spring.
Who would have thought that we would take our weather forecasts from a critter? Today we have satellites, radar, and countless pieces of technology to help us forecast, yet one day a year, we go back to a time before all of this, and wait for a groundhog to see his shadow.
This holiday derives from the Christian holiday, Candlemas. In order to predict how long and cold winter would be, clergymen would light candles. Germans expanded on this by selecting an animal, the hedgehog, to predict the weather. It was not until Germans settled in Pennsylvania that the groundhog became the official weather forecaster.
In 1887, a newspaper editor belonging to a group of groundhog hunters from Punxsutawney called the Punxsutawney Groundhog Club declared that Phil, the Punxsutawney groundhog, was America's only true weather-forecasting groundhog. The line of groundhogs that have since been known as Phil might be America's most famous groundhogs, but other towns across North America now have their own weather-predicting rodents, from Birmingham Bill to Staten Island Chuck to Shubenacadie Sam in Canada.
We went around campus at San Clemente High School and asked students what their thoughts were on this overlooked holiday.  A majority of our responses consisted of, "What's that?" or "Is that a thing?" It wasn't until we approached junior Sam Allegretto who stated, "That's the one where the little guy sees his shadow or not."
Groundhog's Day is now just one of the overlooked holidays on our calendar. This furry forecaster does not affect us in San Clemente directly as it's sunny year round (until recently). Say the groundhog sees his shadow, we might get another week of cloudy weather.
But just so you know, this year the groundhog saw his shadow. Winter is coming.