By Jhanay Eugene | Writer   &   Madi Hawksley | Editor
September 26, 2014
Students all around campus have been talking about The Beach Fire Bar and Grill down on Del Mar, so I decided to go check it out for myself. Known for their steaks, seafood, salads, and deserts, I couldn't wait to try it out!
The first thing I noticed upon arrival was how friendly the waiters and hostesses were. They greeted me at the entrance and were able to find my group and I a table almost immediately.
Focusing on California cuisine, their menu was filled with such a variety of different foods that it was hard to choose only one thing, so I decided to order one of the most talked about entrees – the creamy mac & cheese and the grilled chicken and avocado melt. That turned out to be probably one of the best decisions I've made.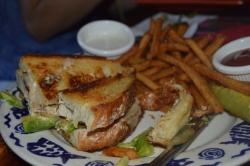 The mac and cheese was by far the best mac and cheese I have ever had in any restaurant I've been to. If you love cheesy mac and cheese, I recommend you come get it from here. The chicken and avocado melt was also very delicious and filling. It was a toasted sandwich with chicken breast, avocado, bacon and mayonnaise on sourdough bread.
For dessert I decided to try the after dinner mint and it was heavenly. At the bottom was a huge, soft, chocolate brownie with vanilla ice cream on top and the whole thing was covered in chocolate syrup. It was the most satisfying dessert ever. If you love chocolate, you have to try the after dinner mint!
Overall, Beach Fire was a phenomenal restaurant with excellent service, and amazing food. 5 stars overall and I definitely recommend it to everyone. However, if you're not in the mood for a fancy sit-down restaurant, scoot on down to the Beach Fire Pizza across from the pier. The pizza they make is all made from scratch and carefully put together. Not only do they sell by the slice but, you can get the whole pie and choose the way you want it. They also have a variety of salads, including mozzarella sticks and hot wings.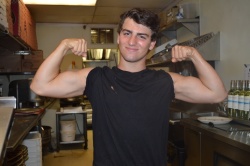 So go try Beach Fire and tell us what you think! Or just stop by and say hi to one of the cooks, junior Liam Buhl who said about working there "It's a blast…" because ",,,the people are so nice and the food is so good!"
Restaurant address: The Beach Fire Bar and Grill, 204 Avenida Del Mar, San Clemente, CA
Hours: Sunday-Thursday 11am-9pm
Friday & Saturday 11am-10pm