October 2, 2014
Lyzy Adler | Writer, Photographer
Grab your go go boots because we are swinging back into the 60s.
New York Fashion Week has shown huge trends that are going back in time to the 60s. Valentino, Louis Vuitton, and Gucci all worked together in finding a "groovy" trend for fall.
60s fashion comes back, in and out of trends, but NYFW made the boldest move on making it perfect. "Audrey Hepburn is a really big part of my life," said senior Dana Burleson. "And her being a style icon in the 60s obviously makes me in love with the idea that 60s fashion is coming back in style."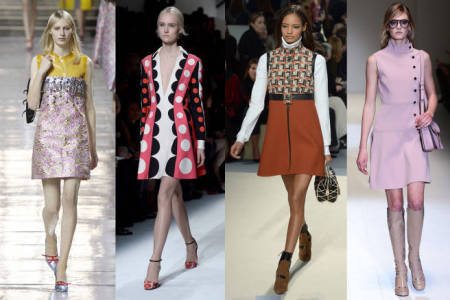 Tailored coats with oversized buttons, simple graphic cuts, and the boots. Rockin' your over-the-knee boots with your retro dress will make you look like a modern day Twiggy.
"I think the 60s look coming back for fall is so cute," exclaimed junior Taryn Foote. "I love the structured look of the pieces and all the vibrant colors. I definitely can see myself taking some inspiration from this adorable trend this season."