By Claudia Pacheco | News Editor   &   Elke Kelly | Writer, Photographer
September 23, 2014
SAN CLEMENTE — The highly-noted San Clemente High School 2014-15 Surf Team debuts with some familiar and fresh faces, all ready to slay their competitors and continue their reign as kings of the ocean.
The start of the season will ask this new team to suit up early in the morning of each contest to face surfers from neighboring rival high schools like Laguna Beach, Newport Beach, and of course, Dana Hills.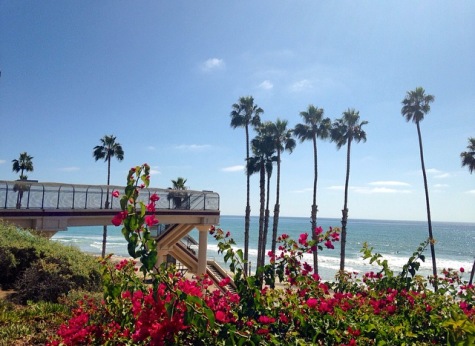 However, waking up early does not phase the SC surfers; senior shortboarder Tai Stratton describes how he prepares to face the competition by claiming, "I follow a strict morning routine of eating pure protein powder, stretching my glutes, and jamming to 'Do the Hustle.'" Junior Racheal Tilly prefers catching a few waves before her heats to "get a rhythm going."
Not only has does the team face competition head on but they also also receive their fair share of injuries time to time. Tai recently took a fin to the head at T Street but instead of viewing the event as a bad omen, he claims that, "this year's gonna be amazing and everyone knows it."
It is this type of positivity paired with undeniable talent that will drive the new surf team to victory through to the NSSA Nationals in June 2015.
Although the longboarding team lost some of their main loggers like Andy Nieblas and Karina Rozunko in last year's graduating class, they are more ready than ever to lead the sea by the nose. Tilly, who has been on the team since freshman year, describes the new Hobie board she rides by noting "I'm really confident and excited to use it in my upcoming contests." Along with her new board, Tilly has her own "Rachael Tilly" model that sells in Hobie stores.
Many of the longboarders on the team like Tilly and fellow junior Nick Melanson surf San-O and Doheny  beach on the weekends, along with their daily sessions at T Street. While high school life requires time and energy for homework and other extracurricular activities, SCHS surfers manage to still spend hours in the water, constantly improving their style.
They'll face the first contest against our main rivals, Dana Hills, at Salt Creek October 7th, so stay tuned and support the students who create the legacy of our surf team.
On a more urgent note, a devastating hurricane recently hit Baja California, leaving civilians stranded without food, water, and shelter. SCHS surf team is collecting clothes and canned food donations that they will send out this Sunday, September 28th. Please drop these items off at room U3 or S4 or hand them to a surfer on the team to help aid in the reparation of thousands of lives. Every donation counts!