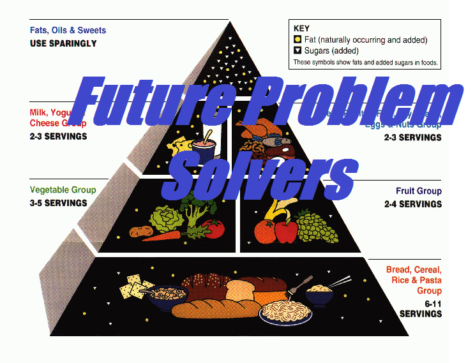 By: Darren DiMarco | Writer
February 23, 2017
This year at San Clemente High School, freshmen Sophia Mains and Chloe Kamp introduced the Future Problem Solvers, a club which aims to make the world a better place and improve the lives of others.
The Future Problem Solvers are one of the many branches of the international Future Problem Solving program first founded in 1974. The program is designed to "stimulate critical and creative thinking skills" and it "engages students in creative problem solving," as stated in the Future Problem Solving website at www.fpspi.org.
Sophia and Chloe first became aware of the program during their time at St. Anne's School in Laguna Niguel. It was there that they started and developed their own piece of the Future Problem Solving program before carrying it with them into San Clemente High School and forming the club. The club now includes many enthusiastic members ready to solve any problem they might encounter.
The Future Problem Solvers has caught the interest of many students; according to sophomore Atzin Ramirez, "The club sounds pretty cool. I'll have to look into it more so that maybe I can get involved."
As of now, one of their main objectives is to raise awareness of childhood obesity, a severe problem which, according to the Center for Disease Control and Prevention, affects one in five school-aged children in the U.S. With this goal, the Future Problem Solvers have visited a number of different elementary and middle schools to promote their message, and more recently have developed a project known as the Food, Fitness, and Fun Fair.
Funded by the Youth Service of America in partnership with Disney, the Future Problem Solvers hosted the Food, Fitness, and Fun Fair on February 11th at Marblehead Park to promote a healthy lifestyle for students and kids. The fair featured a variety of San Clemente businesses, including Orangetheory Fitness, Redline Athletics, and California Junior Lifeguards, all with the purpose of promoting healthy living and physical activity for kids. In addition, kids who attended were able to participate in fitness activities led by the club and parents were able to learn more about how to keep their kids healthy with talks from the club members and representatives from the displayed programs.
"I think what they are doing is great," says junior Steven Barberi. "I know staying healthy is hard, especially for young kids, so the club is probably helping a lot."
The Future Problem Solvers can be expected to produce great things in the future seeing as how this first project was met with such huge success and will hopefully remain a staple club of San Clemente High School for years to come. It was mentioned that the clubs next project in the works will be to promote an awareness of littering with a focus on the giant mass of trash, debris, and plastics floating in the Pacific Ocean.