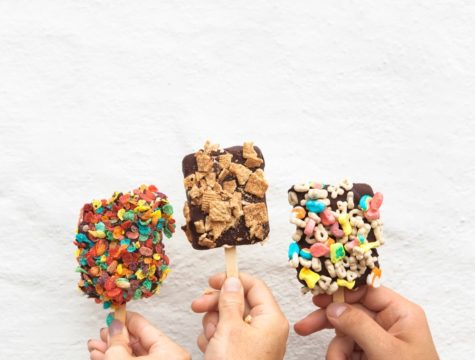 By: Devynn Conte | Writer  &  Michaela Schwartz | Writer
April 18, 2017
South Swell hand dipped ice cream, located in the heart of downtown San Clemente, is all the talk of the town lately. Having just opened a few weeks ago, this new addition to San Clemente has become increasingly popular, attracting crowds of people and creating lines out the door. It has become an instant hit, with growing crowds, right up until closing time. It's so popular, in fact, that they had to close for a while due to selling out of all their supply of ice cream in just a few days. They opened up shop again about a week later and have been making delicious ice cream bars ever since.
Although they primarily offer ice cream bars, you have a unique combination of toppings to choose from. Their specialty bars, which are always changing and improving, have unique names and toppings, like the Sun Burn, which is a vanilla ice cream bar that is dipped in chocolate and covered in Hot Cheetos. Or for a more traditional taste, there's the classic bars, which includes the famous vanilla ice cream bar, dipped in chocolate, and topped with nuts, or sprinkles, or just plain chocolate! If ice cream is not really your thing, dipped frozen bananas are also on the menu and can be a substitute for the vanilla ice cream. At South Swell, you can also find a wide variety of ice cream floats, that range from your traditional root beer float, to your less typical sodas, like Red Bull.
A senior at San Clemente High School, Naomi Wilhite says her "favorite thing on the menu is the vanila ice cream dipped in chocolate with brushed pretzels and caramel!" She also "enjoyed the vibe at South Swell because it is a family business and all the employees enjoy working together to make sure you have a great experience".
Their popularity is partly due to its uniqueness, originality, and simplicity in a city that has little variety when it comes to satisfying your sugar craving. Chloe Schnell, a junior here at San Clemente High School, says, "I thought it was really good and it was nice to try something different, but it was messy to eat. I tried to share with my friend and we had to ask for forks and it ended up being a crumbly mess. I would go back though because it tasted good and it was fun to pick out what I wanted on my ice cream bar."
They continue to serve their community by catering to weddings, birthday parties, and office functions, bringing the fun to you! They offer a portable ice cream dipping station and a trike pull up which can be booked on their website. Their catering services are a fun and unique addition to any special event or function!
South Swell is locally owned and operated, and only has one location here in San Clemente. Come be part of the community and make a visit down for some great ice cream and friendly customer service!