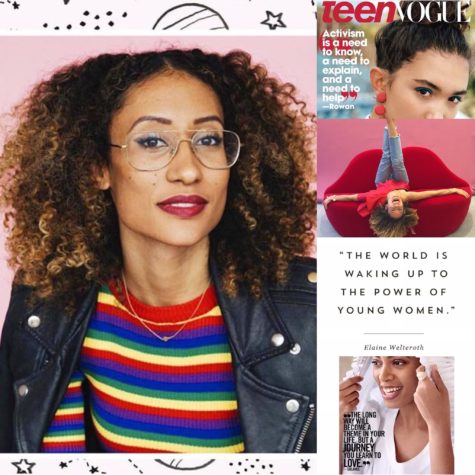 By, Gavin Kelleher | Writer
May 24, 2017
Meet Elaine Welteroth: on April 29th of this year, Welteroth was appointed to the position of editor-in-chief at Teen Vogue. Known as one of the most prominent publications in the fashion world, Vogue was previously a first stop for any fashionista looking for a debrief on fashion week or a quick tip for the hottest new style trends. Under the direction of Welteroth, Teen Vogue is evolving and growing into a much needed outlet for political and social discussion.
Welteroth began her career as an unpaid intern at Ebony Magazine, where she was given the opportunity to assist at a cover shoot with Serena Williams. Soon after, she became Harriette Cole's personal assistant and a paid employee, then later named an editor of the Beauty and Style section of the publication. She worked one year at Glamour Magazine before ending up as Beauty and Health Editor at Teen Vogue in October of 2012.
Welteroth's first notable publishment was in the 2013 Teen Vogue issue where she discussed the trials and tribulations of maintaining African American hair titled "Natural Wonder." This article kickstarted what would become Welteroth's motivation towards a more inclusive, intellectual direction for Teen Vogue.
The Teen Vogue website now includes the category News and Politics, which prior to Welteroth's influence, was non-existent. On the front page there are articles highlighting women of color, gender issues, Feminism, and political discussions. Of the many transitions, Teen Vogue has become a dominant voice in opposition to what they call "Donald Trump's America." Currently trending is an article written by Lauren Duca titled "Why We ALL Need to Be Activists Right Now." Frequently publishing content spotlighting many aspects of Donald Trump's presidency has caused an uproar of feedback accusing Teen Vogue of publishing on a topic they are unequipped to speak on.
SCHS Junior Rachel Hauser discussed her views on Teen Vogue stating "I think it's super good, It's just really interesting that now Vogue is speaking on politics. It seems like everything is political now."
Hauser believes that it could be good for this shift in how we talk about politics to teens, commenting "We are getting to the age where all of this is coming at us really soon, voting and politics, soon we'll all be adults and knowing about this stuff is important."
SCHS English teacher Ms.Scmidt also commented, "I love that they are writing about social issues and politics, but I think it is important for young people to still read with skepticism and an eye for bias." She continued  "I do think young people care about what is happening in the world; its just that most media outlets don't write to younger audiences in a way that necessarily piques their interest."
As the name Teen Vogue suggests their main demographic is commonly thought to be teens girls, Welteroth contradicts this, "Our sweet spot is 18-24" also describing her audience as "genderless." Welteroth claimed "We are a woke brand and our readers are, too." Shifting focus of what Teen Vogue used to consist of now into deconstructing euro-centric beauty standards, political awareness to discussion of cultural appropriation, this publication is stepping towards a more noble direction.
Welteroth has created a radical shift not only at Teen Vogue but also in how media addresses adolescents. By default teens are conditioned to believe that they are "too young to care" or that their age somehow dismisses them from understanding the politics they live in. This is partially due to the content mass media produces for young adults, which is only compounded with the misleading information that is provided. Now due to Teen Vogue this conditioning has begun to evolve, producing more informed, thoughtful young adults. Another widely acclaimed publication The Guardian recently commented  "The website (Teen Vogue) has come to play a key role in repositioning the title as a voice for the resistance."