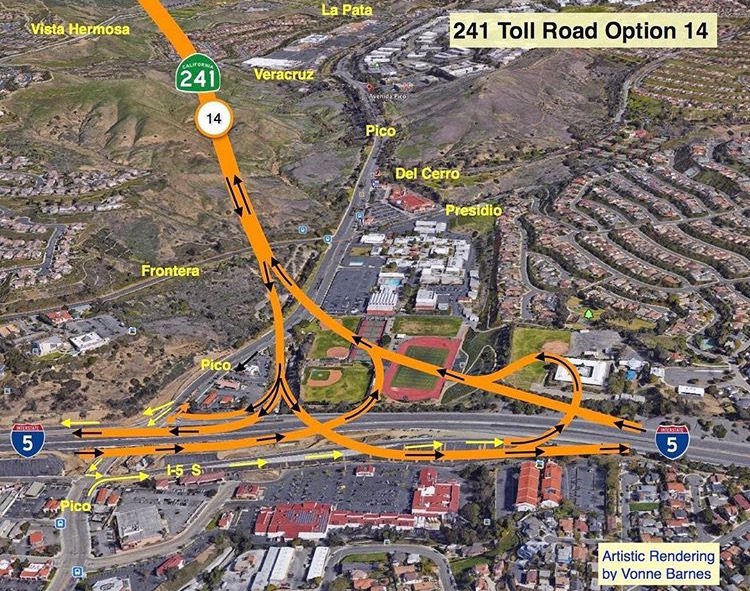 By: Hayden Koerner | Opinion Editor
May 24, 2017
From irreversible destruction of our environment to diminishing opportunities for future San Clemente High School teachers, students, and athletes, there are countless reasons why you need to be concerned if the Transportation Corridor Agency (TCA) extends the Toll Road through our soon to be centurion beach town.  
If you've had your head in the sand, there is no better time to embrace the issue.
Basically, the TCA has proposed two potential routes that literally slash up San Clemente. The first connects to the I-5 near Avenida Pico and the second connects close to Shorecliffs Golf Course.  The proposed toll road cuts through homes, reducing property values, and run over  our high school football field.  Brace yourself; extra I-5 widenings would be required.  If this happens, we might as well walk to school. We might get there faster.
Here is the much scarier part: how a toll road leads to tolls. A "toll" is a tax paid for the privilege of using a service, in this case, a highway. However, a "toll" also means the cost in life or health.  These two meanings go hand in hand, especially in regards to the toll road issue.
According to students in Mrs. Kerr's AP Environmental Studies class, a toll road can literally kill you. Not right now, but perhaps down the road (pun intended). Even though it is likely that you might even be living in this area and never use the toll road, the threat to you and loved ones remains due to numerous factors.
"One alignment would run within 500 feet of San Clemente High School," explains junior Natalie Zanzonico. "In 2003, a California law passed preventing freeways from being constructed within 500 feet from schools.  Basically, living near a freeway has harmful effects on lung capacity and learning, as well as increasing the risk of developing cancer."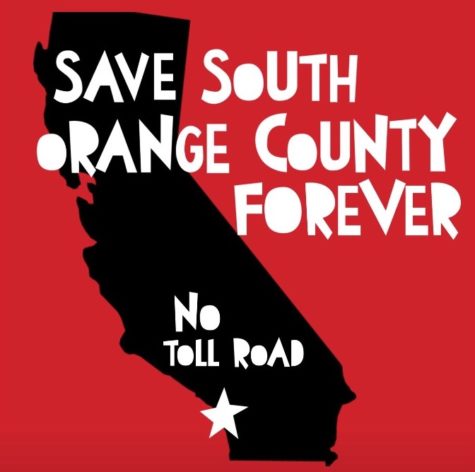 Plainly speaking, with a Toll Road looming over our school like a colorless rainbow, we could eventually see a decline in future CIF championships, State championships, creating scholar- athletes, and obtaining academic achievements. Additionally, attendance would likely fall due to illnesses caused by the decrease in San Clemente's air quality.  
"Mrs. Kerr [teacher of AP Environmental at San Clemente High School] is always emphasizing the interdependency and complexity of the natural world and the impact of human activity on the global ecosystem," explains junior AP Environmental student Morgan Thomas.  "San Clemente has areas with their own water restrictions, watershed, and endangered species and implementing the Toll Road would lead to the irreversible destruction of  our surrounding environment."
"Not Your Toll Road"? Now is your chance to take a stand by attending one of the most important meetings of the year at Saddleback College. Be sure to wear Triton colors and even bring signs to show your support for preserving the school and its surrounding environment. The meeting will be held Monday June 5, 2017, 5:30 pm – 8:00 pm, Room Sm 313 – Parking Lot 10.  Thousands will be needed to stop the TCA from the eminent destruction of San Clemente.