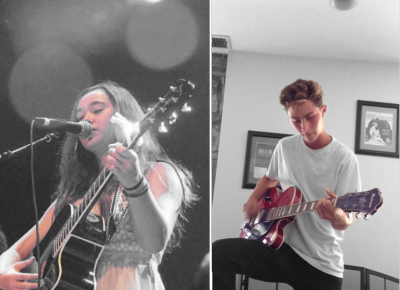 By Claudia Pacheco | News Editor   &   Elke Kelly | Writer, Photographer
October 7, 2014
At SCHS, instead of worshiping the mainstream pop music blaring from the radio, we value our local talent who inspire us with their individual melodies and unique style. Whether they play in bands, sing in our choir, perform on stage, or simply jam on the streets for tips, these student musicians are impossible to miss around the SC Community and beyond. Without question, the guitar in particular has become the focal point of many of our determined musicians, such as sophomore Lindsay Macdonald and senior Draco Tudor.
Lindsay knew from the moment she began strumming the guitar with her dad two years ago, music would forever be a one of her key passions in life. Soon after she began playing guitar, she developed a love for singing and songwriting and realized that her talent draws in strangers just as much as it moves her friends and family. She therefore plays guitar a few times a month in front of the pier, where she makes on average, $50 an hour. Along with casual street jams, Lindsay performs on stage at venues like the House of Blues. It was there where she had her most memorable experience on stage, describing, "Playing for so many people who came to hear my music … it was magical." She plans to play for the rest of her life but she explains, "I always want music to be something I do because I love it and want other people to connect with me." This is not something she is forced to do for money.
Draco developed an intense passion for playing guitar and music in general after his parents bought him a simple guitar to "mess around with" 12 years ago. Currently, Draco owns a variety of both electric and acoustic guitars, but his favorite to play is his 12 string because he loves, "all the different notes that come out of strumming just one chord." While Draco occasionally plays for tips at the pier like Lindsay, he prefers to perform at venues. His favorite event so far was a wedding where he performed in exchange for money, free food, and great company
However, things suddenly went awry when a woman, under the impression that he stole her piece of cake, punched him in the face. Overall, the positive experience of playing for the wedding outweighed the altercation. While he plans on studying various fields in college, Draco aims to work towards becoming a professional musician after he graduates this year.
Keep your eyes peeled for these two musicians at school and around town, where they spread their music to the San Clemente community every chance they get.