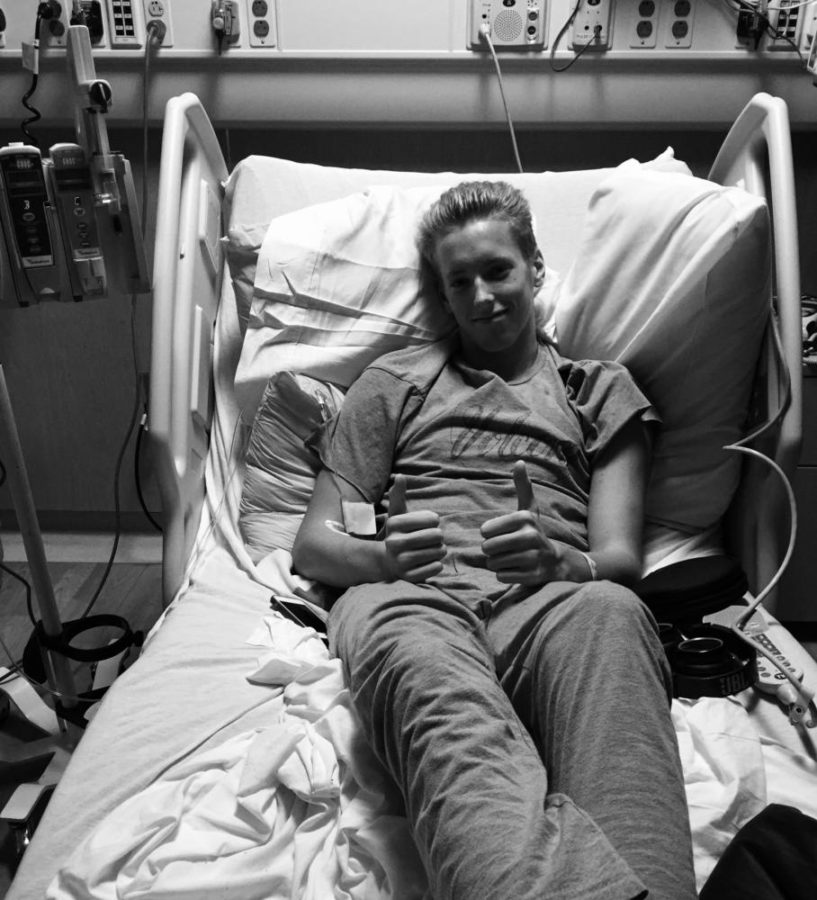 By: Claire Vlasic | Writer
September 13, 2017
Everyday people deal with obstacles in their lives, some vast and some small. It takes a certain person to be able to overcome these challenging moments in life and obtain enough strength and motivation to push forward. Weston Rowan, a senior at San Clemente High School, did just that.
Rowan faced one of the most major life-changing events when he was diagnosed with stage four lymphoma cancer on Christmas day, of 2015. A shock to the San Clemente community, everyone kept Weston in their prayers and carried hope that the results of this crisis would remain only positive. Maintaining a determined and positive attitude, Rowan was able to successfully overcome his battle with cancer, many trying surgeries and treatments later.
With love and support from friends and family, he was able to push through one of the most difficult moments in his teenage years, an experience that many of us will never come close to understanding. Today, Weston lives a healthy and happy life as he continues to swim and do what he loves. In this interview recorded on August 28, 2017, Weston reveals details about his time in the hospital and shares his emotional and physical states during this period. He has been an inspiration to several individuals and has taught us all how important life truly is. There is not a day that passes where Weston isn't thankful for his health and often preaches, "Pain is temporary, but quitting lasts forever." 
What symptoms did you encounter before being diagnosed with cancer?
I experienced a knife jabbing pain in my chin, along with being fatigued from the little things such as going up the stairs. I had little to no energy and a very little appetite.
What were your initial and emotional thoughts when you were told you have cancer?
My initial thoughts when I was told I had cancer were that I was going to beat it. Emotionally, it was hard because every person I loved and cared about was so devastated.
What was it like being in and out of the hospital for so long?
Being in the hospital for so long was tough at first, but I got used to it so that the people, especially my nurses, became like family to me.
How did cancer physically affect you?
Physically, cancer took fifty pounds from me and took my hair too of course.
How did cancer affect your social life? (friends & school).
Academically, I was able to hold it together to be ready for my junior year. I didn't really focus much at all on my social life because this was a time where I had to be selfish and focus on getting better.
Being such a high level athlete, how did this affect your mental head space during your battle with cancer?
Being an athlete for sure helped with my mindset because it helped me focus on one thing only and that was living every day to the fullest, and beating this while doing so.
Who inspired you most during this time?
Lebron James.
What was your reaction when you found out you were finally cancer free and how did you celebrate this moment?
When I found out I was cancer free, I started balling right away and could not believe it.
Did you experience any struggles with getting back into your daily routine after being cancer free?
I did not experience many struggles getting back into my daily routine because I was always so excited to do the things I wasn't able to do for so long.
A year later do you still have effects from the eight months of chemo you went through?
Being a year out from finishing all of my treatments, I do still feel effects from treatment, such as my endurance isn't the same and when I get a small cold or something, it takes a while to go away.
How did this experience shape you as a person?
This experience has made me a whole new person for the better and if I could go back and change anything, I wouldn't. I know don't take anything such as my health for granted.