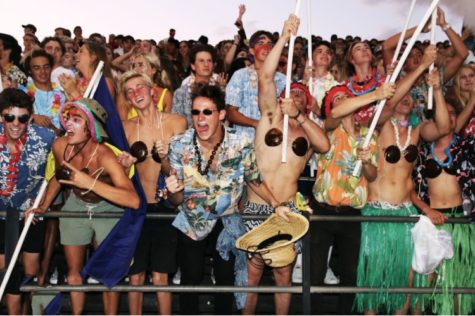 By: Zac Skov | Writer   &   Sean Turcotte | Writer
September 12, 2017
Fridays are seen by many as a gateway to the weekend and a time to relax, but to the rowdy students of San Clemente High School, Fridays mean one thing: football.
As the sun starts to die out and a cool ocean breeze takes over, the stands of Thalassa field are nothing short of energy and intensity. Led by seniors ASB standouts Trey Russell and Nabil Shull,  'Loud Crowd' is always ready to support their boys on the field and cheer them onto to achieve greatness yet again.
As the clock strikes 7 on Friday nights, the restlessness takes over in the crowd and lasts the entirety of the game. Yelling, screaming, singing, and dancing,  Loud Crowd can sometimes seem more like a chaotic abyss rather than a crowd. "I'm just here to watch some football, have some fun, and look at the opponents faces when they realize how pumped up our crowd is, and how beast our team is," noted senior Caden Spencer. Dedicated to their craft, they hold weekly meetings before games to organize their chants and cheers.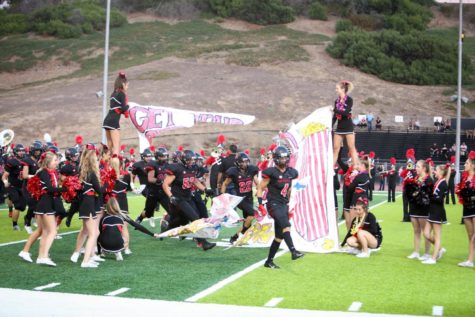 Just as amped as the crowd, these sacred nights are just as exciting for the players on the field. Friday nights are what football players live for. The crowd screaming, the lights glaring, and whistles blowing. It's a profound feeling of eagerness and adrenaline, that those in the crowd cannot understand. The blood, sweat, and long days under the sun all become worth it when they hear the cheers of thousands of people sound off in a symphony of noises. It's an amazing sight to witness the level of devotion in both the fans and players for a simple sports game.
Although the crowd is an intricate part of the football game, the players have to keep their focus on the field, amidst the chaos in the stands. "I always stay loose, listen to some music, don't let the crowd get in my head and just have fun, and focus on the game," added senior wide receiver Chase Berman. And although they have varying perspectives, both the team and crowd can always unite under one thing, and that thing is their passion for their school and football.