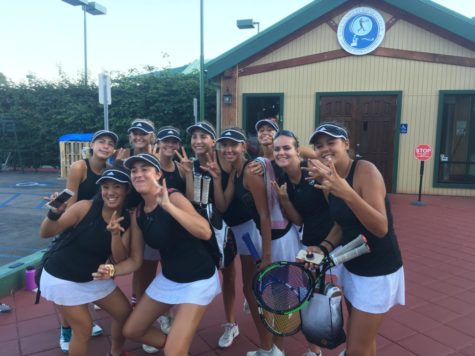 By: Jillian Gellatly | Writer
September 27, 2017
On Tuesday, September 26, at Laguna Niguel Racquet Club, the San Clemente Tritons and the Dana Hills Dolphins went head to head on the tennis courts. Dana, ranked sixth in CIF Division I were the favored team in this match up, however, the Tritons beat the odds and upset the Dolphins 10-8 in an extremely thrilling match.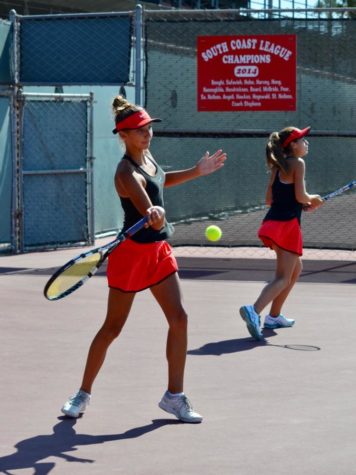 San Clemente won the first round 4-2, tied the second round 3-3, and found themselves in a very tight situation the third round. Senior Lindsay Hung left no doubt, winning all three of her singles sets, and seniors Sami Nielson winning two out of three of her singles sets, but it looked like it just wasn't going to be enough for the underdogs in that last round until the Triton's line 1 doubles team, sophomores Eva Barreira and Sydney Donovan, fought their way back in their last set and wound up having to play a tie-breaker.
Barreira commented that the last set "showed their true mental strength and how when her and Sydney work together and stay positive they can accomplish so much." Sydney added that they were able to "ignore the other teams loud cheering and remarks and focus on the point and pull through without getting frustrated or overwhelmed." Both girls agreed that during the tie breaker the only thing that was going through their mind was "don't miss and stay positive while thinking about the entire team as a whole."
This match meant so much to the team and is so significant to the team's record and standing in league. Sami Nelson, senior and four year letterman stated that, "This match was probably the most intense of the season with very high pressure and high stakes. We want to take the title for ourselves and not share it with them again this year." She also commented that the most important thing for the team in this match was "staying focused and positive." She continued that, "Coach said we were the underdogs but I knew we were going to win the whole time. I never had a doubt in my mind that we would win and I knew that if we kept that in our heads the entire match and came out with high energy then we would win the match and we did."
With this victory over Dana, the lady Tritons head into their next match next week sitting in first place in their league, battling their way through their second half of league play to defend that spot. The last three years San Clemente has shared the league title with Dana, but with their first win against their long time rivals under their belt, these girls are hoping to change that trend this year and take the league title for themselves by beating Dana again, this time with home court advantage for the Tritons, on October 12.