By: Morgan Creek | Opinion Editor
September 27, 2017
In my last article, I discussed how beauty products could indirectly pollute waterways and contaminate aquatic life, and ways to avoid purchasing makeup that causes this. In this article, I'm going to talk about a more direct way the production of makeup can harm living animals: animal testing.
The use of animals for product testing has been going on for centuries, dating all the way back to the era of ancient Greece. Though originally animals were used to demonstrate the effects of medicine, they are now used for various forms of testing. Each year, more than 100 million animals—including mice, rats, frogs, dogs, cats, rabbits, hamsters, guinea pigs, monkeys, fish, and birds—are killed in U.S. laboratories for biology lessons, medical training, curiosity-driven experimentation, and chemical, drug, food, and cosmetics testing (PETA). Though I believe animal testing is wrong on all levels, today I will be discussing how to avoid beauty products that cause harm to animals.
Because animal testing with beauty products has dramatically declined in the past decade, many assume that major cosmetic companies have found alternatives to animal cruelty. However, there are still dozens of major companies that are committing this crime. Unfortunately, it can sometimes be hard to tell which products are guilty of harming animals. For example, some companies, such as L'Oreal, don't test on animals in the United States, but pay large amounts of money for China to experiment on animals. This includes painful and deadly methods that can be fatal to the animals after long amounts of suffering.
Look out for the following companies, a list of major beauty companies that still test on animals, but have attempted to conceal this by only testing outside of the United States:
Clinique

Maybelline

Mary Kay

Bobbi Brown

NARS

Make Up For Ever

Benefit

OPI

Avon

Victoria's Secret

Estee Lauder

Boscia
Origins
Animal rights advocate Isabel Grigg stresses the importance of making sure one's beauty products aren't tested on animals:
"So many people don't understand that big companies like Maybelline and L'Oreal still test on animals. Don't buy products from these companies- you're contributing to the mistreatment of animals! There a ton of products, both drug-store and high-end, that don't test on animals- you just have to look!"
Don't be fooled by claims on a label that state that a product wasn't tested on animals. The U.S. Food and Drug Administration doesn't regulate "cruelty-free" or "not tested on animals" packaging labels, so companies can put this on their packaging even if the product or ingredients have been tested on animals (PETA). To find out whether a product is truly cruelty-free, use PETA's trusted list of certified companies that don't test on animals.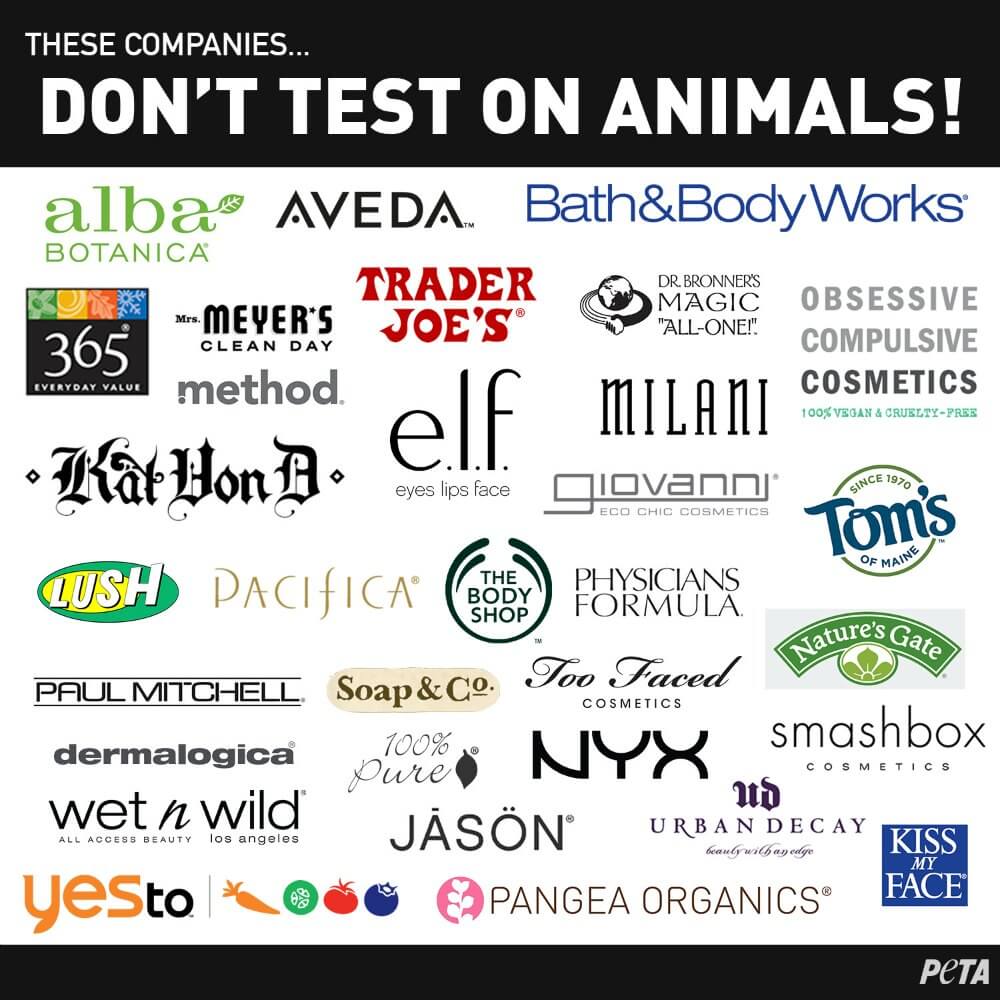 Mia McFadden, a senior at SCHS, comments on the vast list of companies on PETA's list:
"I was so surprised to see how many well-known products were testing on animals! It was horrifying to think I had contributed to the cruelty of animals. I will definitely not be buying products from these companies anymore."
An AMAZING vegan product line that doesn't support animal testing is Kat Von D. Kat Von D Beauty is certified by PETA as being cruelty-free. This means that the brand has pledged not to test their finished products and ingredients on animals. PETA also confirmed that Kat Von D Beauty is not sold in Mainland China, a country that mandates animal testing by law for foreign companies.
Her makeup includes various aspects of beauty- foundation, eyeliner, eye makeup, lip products, and many other forms makeup comes in. They are pigmented and long-lasting, and are some of my personal favorite. Kat Von D doesn't stop at not testing on animals- she has been actively advocating animal rights for years, inspiring other companies to follow the same cruelty-free path she has. She explains how "every day (she) has the choice to live a life of compassion that not only helps saves animals, but also helps the environment… not only is it important to (her) to create a 100% cruelty free brand, but also send out a very clear message to both consumers and companies out there: testing on animals in the name of beauty is cruel and unnecessary". 
So if you are an animal lover, follow in Kat's footsteps! You can do your part as a makeup consumer and avoid buying products that test on animals, and inform other beauty-lovers about how to do the same. These small steps can help eradicate testing beauty products on animals altogether.