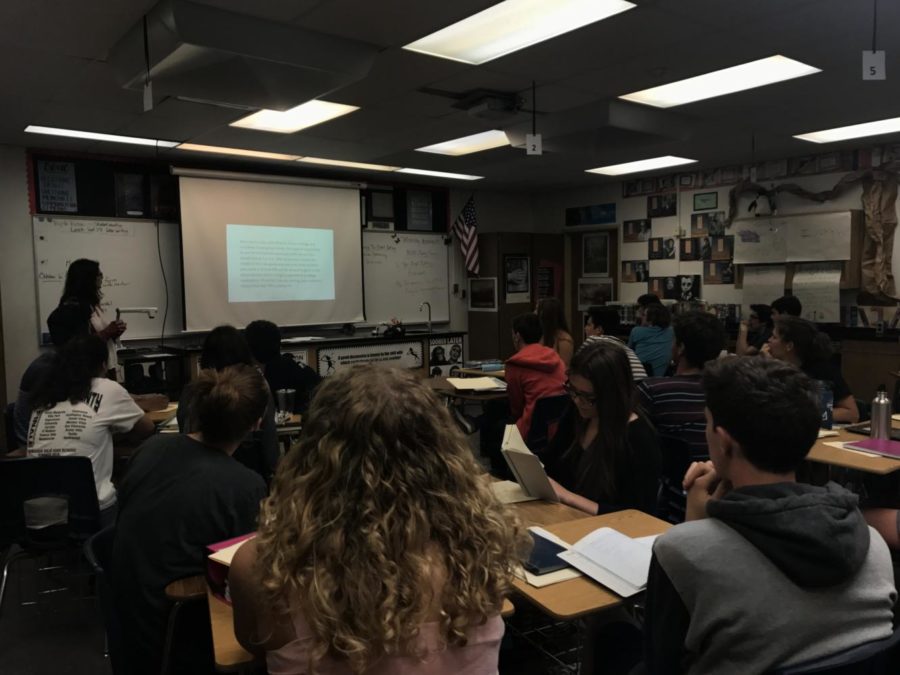 By: Flynn Lloyd | News Editor
September 22, 2017
Among all the myths circulating throughout our campus, the one that seems to repeat itself the most is that the International Baccalaureate Diploma Programme (IBDP) is "not worth the work" and the "end of any social life." As juniors enter the year where this ominous idea becomes a real question, it's important to evaluate if the IBDP poses a threat to passionate students.
It's no question that the IBDP is an added workload. To receive the diploma, students are required to take and pass three higher level and three standard level courses. Each class has its own internal assessment, often a paper, and an exam on which a student must score a 4 out of a 7 point scale to pass. There are also mandatory creativity, action and service projects and an extended essay. Theory of Knowledge (TOK), a philosophy course, is also apart of the package. This level of rigor may appear daunting, but for students already dedicated to school and taking some rigorous courses, is it really something so far out of  reach? Between the Theory of Knowledge class and new opportunities in courses such as IB Dance, the IBDP offers experiences for zealous students unavailable in other classes. Senior Nicole Dutch explains that she decided to partake in the IB Diploma Programme because "it's the most rigorous course you can take at the school and gives you more opportunities to work with a whole program through service projects and TOK that make you more well rounded and prepared going into college whether that be international or domestic."
Around campus, fear of the programme lingers in even the most capable students. Many juniors who are flourishing in AP classes are hesitant to join because of the widespread idea that it's a choice between sleep, social life, or IB. I was very hesitant to join the IBDP as it does seem like a goal very far out of my reach. As senior Chloe Patterson puts it, " it's that mountain you can't quite see the top of yet." IB is a whirlwind of work and dedication, sometimes even at the expense of feeling lost, yet there are many benefits and mentors to walk us through the process and aid students when they are most stressed.
The infamous red robe also provides a level of motivation and competition to continue through the program. As school becomes more competitive, many students in IB use it help them stand apart from the crowd in the eyes of college admissions officers.  That red robe is a symbol of all the hard work the candidates put into high school and the achievements they've made thus far. This level of competition lights a fire within the IB students as they pride themselves on the fact they have taken on more work and have fought harder to be where they are academically. With all of this said, the IB Diploma Programme is still a personal decision and varies for each student. Hali Hammargren, senior at SCHS, described the reason she opted out of the diploma while still remaining in TOK as, "it kind of limits you, in that you have to take high level courses in everything. I didn't want to take some of the IB courses and it wasn't the right path for me as a student." The IBDP requires students to develop their academic achievements and take more rigorous courses.
The TOK class doesn't require a student to work towards the IBDP, yet still gave me a chance to really view the atmosphere of this diploma candidacy. As TOK starts off Monday afternoons with a small classroom of about 20 kids and brief meditation activity, an overwhelming sense of support and togetherness fills the room of kids. This is a class where students who raise pressures and limits for themselves learn more about why they do so and have a collected group mentality, similar to a team. Although the IB diploma is a great chance for high achieving students, it is a challenge laden with time constraints one must be cognizant of before deciding to participate. IB is not for everyone, but it certainly isn't merely for "geniuses" either; as students go further into making choices that shape the person, it's most important to remind oneself to stay true to one's own ambitions, not those of others.