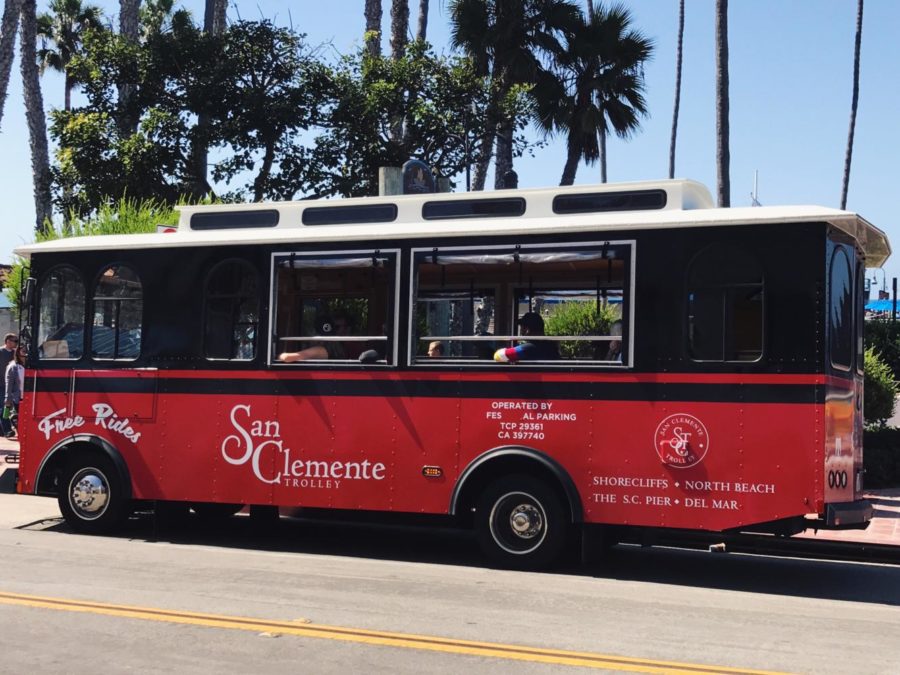 By: Lucy Terry | Writer   &   Savi Raghuraman | Writer
September 27, 2017
As summer comes to an end, so does the brand new San Clemente trolley. With an estimated 50 riders per hour, this charming new mode of transportation will be sorely missed by San Clemente residents when it stops running on October 1st, 2017.
Our city's latest attraction makes fifteen stops along its route, driving as far north as the Outlets and as far south as the Pier. It functions from Thursday through Sunday, from early in the morning to late in the evening. Initially, the trolley was supposed to stop running after Labor Day, but due to the massive amount of popularity following its debut, the city council extended the service for four more weekends.
The new addition to San Clemente's public services follows in the footsteps of neighboring beach communities to the north. Laguna Beach lays claim to the most extensive trolley system in Orange County, including three daily routes during the summer and an off-season weekend trolley. The Dana Point Trolley is younger than the Laguna Trolley, but this past summer it has boasted two daily routes. Both of these beloved services can serve as inspiration for the future development of the San Clemente trolley service.
Residents of San Clemente are delighted with San Clemente's new trolley and even wish for more hours of operation. Paige Campbell, sophomore, says, "Yeah, the trolley is great. It is very convenient and accessible, especially because it is free. I've used it three or four times, but I think it should run all the time, and not just a few times a week."
Sydney Lantz, junior, shares Campbell's sentiments: "I think the trolley is awesome! It's very convenient for residents and tourists and is definitely good for traffic downtown. It should run more often for sure."
So far, there has been overwhelming support for the trolley, and its fire-engine red presence will surely be missed.  It will be hard to say goodbye to the free rides down to the pier and return to the life of hectic parking. After October 1st, there will be a trolley-sized hole in our hearts, but don't worry: it'll be back next summer.