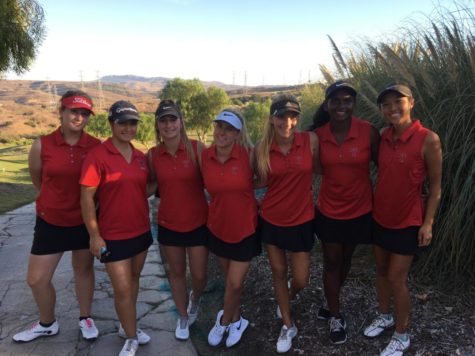 By: Jillian Gellatly | Writer
October 12, 2017
The San Clemente High School lady Triton golf team has always had the reputation of being a successful program.
And this year is no exception.
Tuesday, October 10 marked the Triton's final match against Tesoro, and their undefeated record was on the line.  The Tritons once again defeated the Titans and clinched the league championship.  When speaking with veteran golf coach Rod Cummings, he described the team as "hard-working and driven." He also commented "Our program's goal is to get better at golf. Practice, play, learn the game, and to do it with integrity. If we get better, the winning will come."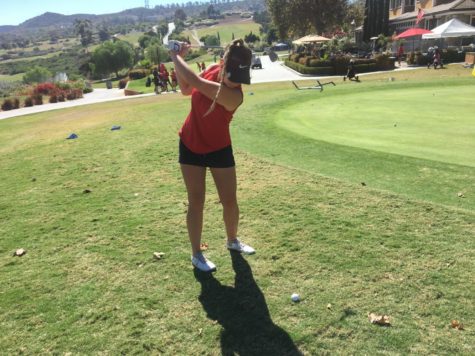 Coach Cummings also made it clear that aside from being an extremely successful team on the course, these young ladies are all around phenomenal people off the course as well. Cummings shared that his favorite part about coaching is, "the girls themselves. They are amazing and all they want to do is get better all the time. They look up to the coaches for guidance and everything you say they take it to improve every time. I look forward to it every year."
One of those amazing young ladies is senior, Aria Dalkas. Dalkas described her experience on the team very positively and when asked what her favorite part about golf is, she replied, "My favorite part about golf is bonding with my team before season so we can get to know each other, which overall makes us a better team and helps us play better."
Winning a South Coast League championship 17 years in a row doesn't just happen by chance. The program has been built upon sustainable values, coaching principles, and sustained work ethic by coaches and players, and together, they have built the program that we all know of today.
For example, Cummings noted that the key to their success is that, "We coach golf because we want the kids to play it a life time. We want to teach them golf, including how to play, the integrity of the game, and the etiquette of the game." Dalkas stated that what makes her the most successful is "Practice and focus, especially in a tough situation and I am able to have my team mates help me make a good decision. So basically, making smart plays with the options I have."
So, if you want to watch a successful team with even more successful individuals, come on out to the course and watch these amazing players in a match, you won't want to miss it!